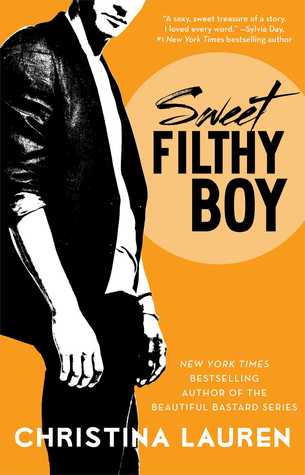 Sweet Filthy Boy
(Wild Seasons #1)
Author:
Christina Lauren
Release Date: May 13, 2014
Publisher:
Gallery Books
Source: Gallery Books
Review by: Jenn and Nahomi
One-night stands are supposed to be with someone convenient, or wickedly persuasive, or regrettable. They aren't supposed to be with someone like him.

But after a crazy Vegas weekend celebrating her college graduation—and terrified of the future path she knows is a cop-out—Mia Holland makes the wildest decision of her life: follow Ansel Guillaume—her sweet, filthy fling—to France for the summer and just…play.

When feelings begin to develop behind the provocative roles they take on, and their temporary masquerade adventures begin to feel real, Mia will have to decide if she belongs in the life she left because it was all wrong, or in the strange new one that seems worlds away
Jenn's rating: 5 stars out of 5 stars
Nahomi's rating: 5 stars out of 5 stars
Our average rating: 5 stars out of 5 stars
*We received an ARC of this book from the publisher as part of blog tour but it did not influence this review in any way.*
Jenn:
I loved this book, LOVED ÍT. I know I say this after I read one of Christina Lauren's books, but I think it may be my favorite of their work so far. I was super excited when I got my hands on
Sweet Filthy Boy
because I've been hearing a lot about Ansel and how he compared against the Beautifuls men. After finishing up SFB, I maaaaaay have made a switcheroo in my list of favorites.
In
Sweet Filthy Boy
we meet Mia who is on her way to Vegas with her best girlfriends right after their college graduation. She happens upon Ansel across a restaurant and some hot and flirty banter are exchanged along with some stuff that I will not spoil for you. At the end of their trip, not wanting to say goodbye to Mia, Ansel invites her to Paris for the summer.
I have to admit that at first I was a little apprehensive about that. I was charmed by Ansel, how can I not be, but all my rational side could think was "You've known this guy for a weekend, Mia. What are you doing flying across the country and across the Atlantic to spend the summer with a guy you barely even know?" But I didn't have to worry for long. Ansel is a French sweetheart with a filthy mouth. The way he is with Mia and his friends made it very easy to like him. Some of the stuff he would say to Mia, HO-LY.SHIT. I wouldn't even be able to form response aside from "Uhhh..dskhdckjckj." The sexy times between Mia and Ansel were definitely hot. Their chemistry and banter made the foreplay almost as hot as the actual event. There were plenty of time when I muttered how much of lucky girl Mia is because damnnn...
Mia is struggling with the decision of what she wants to do and what her father wants her to do. Being around Ansel really forces her to think about what it is that she wants out of life and what makes her happy. The way they both make each other be the best person they can be and how great they get along was so well done and made them a more relatable couple.
I loved that Mia decided to purse her dreams and that Ansel pushed her towards them. Even though they knew that pursuing her dreams might separate them, they still went forward with it. I can't wait to see how their relationship grows and progresses in the next book. Christina Lauren really outdid themselves with
Sweet Filthy Boy
. I loved every second of it and I can't to see what next for Harlow and Finn in
Dirty Rowdy Thing
.
Nahomi:
I was a little nervous when I started reading this book. I am a big fan of the Beautiful Bastard series and couldn't for the life of me think of a way Christina Lauren could top that series. OH Man was I wrong; they have completely out done themselves with
Sweet Filthy Boy
! I absolutely love this story! By the second page I was hooked, Mia, Lola and Harlow's easy banter is funny, and made me want to get to know them.
The story line completely took me by surprise; to be honest I hadn't read the synopsis because I will pretty much read anything by Christina Lauren. I love their writing style, characters and their ability to make me feel invested in them. I was so totally immersed in Mia's and Ansel's story that I was useless for the past day or so it took me to read this book because I just couldn't put it down. Vegas and Paris were the perfect backdrops for this story.
I was living vicariously through Mia…man she is one lucky lady. Ansel had me drooling for the first moment he came into the picture. Each and every moment after he just kept winning me over again and again and now I'm a big mush ball for Ansel. I can't even describe the chemistry between these two but I will say that I love that they had to figure out a way to make things work between them. It wasn't the usual insta-chemistry we normally see. I agree with Jenn in that I like that they were both able to do want they wanted even though what that meant for their relationship.
I don't really want to give any spoilers because I couldn't do this book justice with a summary. I will say this: Sweet Filthy Boy is one wild and exciting ride! The sex scenes are sooo hot that they make an active volcano seem like Antarctica in comparison. There were times when I seriously had to think of saggy old people bottoms, just so that I could cool myself down. Christina Lauren did a wonderful job writing this story. I am so excited about the rest of this series; I totally having Mia and Ansel withdrawals at the moment. This is definitely my new favorite of mine.
Sweet Filthy Boy
is a must read!
About the Author:
Lauren Billings

(but everyone calls her Lo) has a Ph.D. in neuroscience and before she made writing her full-time job, would spend her days doing nerdy research-type things wearing a lab coat and goggles. She is silly Mommy to two littles, wife to one mountain biking homebrewing scientist, bestie to a shoe-stealer, and an unabashed lover of YA and romance.

Christina Hobbs

(but you'll always hear Lo call her PQ) used to spend her days in a junior high counseling office surrounded by teenagers. Married to the cutest boy in school, she has a thirteen year old daughter, is an unapologetic lover of boy bands and glitter, and also likes to steal Lo's shoes.

You can follow their shenanigans at:

@lolashoes

(Lauren) &

@seeCwrite

(Christina) on Twitter. On

Tumblr

! where we post kissing gifs and writerly stuff and

Wattpad

for short stories and sneak peeks!

For official information about their books, events, interviews, movie news and more, follow

@beautifulbastrd.