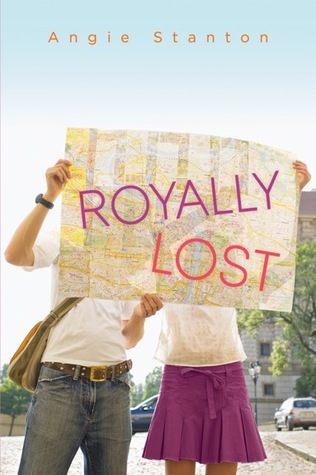 Royally Lost
Author:
Angie Stanton
Release Date: May 6, 2014
Publisher:
HarperCollins
Source: Edelweiss
Review by: Jenn
Dragged on a family trip to Europe's ancient cities, Becca wants nothing more than to go home. Trapped with her emotionally distant father, over-eager stepmother, and a brother who only wants to hook up with European hotties, Becca is miserable. That is until she meets Nikolai, a guy as mysterious as he is handsome. And she unknowingly finds herself with a runaway prince.

Nikolai has everything a guy could ask for-he's crown prince, heir to the throne, and girls adore him. But the one thing he doesn't have...is freedom. Staging a coup, he flees his kingdom and goes undercover on his own European tour.

When Nikolai and Becca meet, it's their differences that draw them together. Sparks fly as they share a whirlwind of adventures, all the while dodging his royal guard. But Becca's family vacation ends in a matter of days. Will Nikolai and Becca be forced to say goodbye forever, will his destiny catch up to him, or will they change history forever?
2 stars out of 5 stars
*I received an eARC of this book from the publisher but it did not influence this review in any way.*
I was super excited about starting this book. The synopsis totally called my attention and I couldn't wait to start it. Right from the beginning, I couldn't help but compare Nikolai to the prince from the movie
The Prince and Me
starring
Julia Stiles
. He's a womanizer and enjoys partying just like the prince in the movie, Eddie. However, that's where the similarities end. Nikolai's parent treat him like he is still in grade school and Nikolai responds by acting like a grade school boy. He decides to escape his "punishment" to teach his parents a "lesson."
I also had a hard time connecting with Becca. She's on a cruise exploring some cities in Europe with her father, stepmother, and brother and all she does is complain about how boring it is learning about the cities's history. She could care less about being in Europe and wished she was back home. I found that to be crazy talk. Every person I know who has lived in the United States would love a trip to Europe as a graduation gift. I can understand her reluctance about being on vacation with a distant father but her stepmother was nothing about excited about exploring Europe with Becca. And even if she doesn't get along with her stepmother, I would have just appreciated being able to explore Europe.
Because I had such a difficult time liking both Becca and Nikolai, I had a hard time liking the book. The story line was so cliche and predictable that I found myself rolling my eyes and scoffing at the things that happened. I really wanted to like this book but unfortunately it just didn't work out for me.