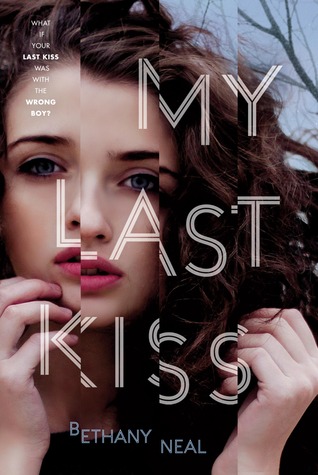 My Last Kiss
Author:
Bethany Neal
Release Date: June 10, 2014
Publisher:
Farrar, Straus and Giroux (BYR)
Source: NetGalley
Review by: Jenn
What if your last kiss was with the wrong boy?
Cassidy Haines remembers her first kiss vividly. It was on the old covered bridge the summer before her freshman year with her boyfriend of three years, Ethan Keys. But her last kiss—the one she shared with someone at her seventeenth birthday party the night she died—is a blur. Now, Cassidy is trapped in the living world, not only mourning the loss of her human body, but left with the grim suspicion that her untimely death wasn't a suicide as everyone assumes. She can't remember anything from the weeks leading up to her birthday and she's worried that she may have betrayed her boyfriend. If Cassidy is to uncover the truth about that fateful night and make amends with the only boy she'll ever love, she must face her past and all the decisions she made—good and bad—that led to her last kiss.
3.5 stars out of 5 stars
*I received an eARC of this book from the publisher but it did not influence this review in any way.*
All I had to do was read the prologue and the first chapter of My Last Kiss and I was immediately hooked. I was a little teary eyed at the beginning, but then I was just curious to find out what happened to our main character, Cassidy. I had several theories on what really happened to Cassidy, so I was eager to see how the story would play out.
Cassidy's life is over but she has no memories as to what happened to her. Every one is saying she committed suicide but she can't believe that she would end her life. She tries to learn what happened but realizes that the truth might be scarier than she truly thought possible. She's faced with secrets from every angle, her best friends, her boyfriend, and even herself. Watching (or in this case, reading) it all come together was eye-opening because I didn't really see it coming.
By the end of the book, all my theories were proved wrong and I have to say that it made me even sadder. I won't spoil the ending, but the truth of Cassidy's death is heart breaking but not as much as the real reason why she is still around. That completely shook me to the core. Although, I'm glad, in a way, to say that I was proved wrong.
I really enjoyed reading My Last Kiss. It has such an interesting premise but the ending is what made it even better for me. The ending was so touching and I loved how Bethany Neal managed to really drive home the reason why. Kudos to Ms. Neal for that.