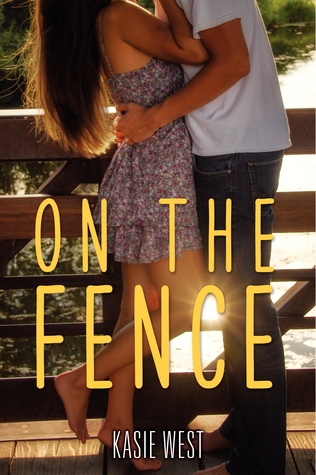 On the Fence
Author:
Kasie West
Release Date: July 1, 2014
Publisher:
HarperTeen
Source: Edelweiss
Review by: Jenn
For sixteen-year-old Charlotte Reynolds, aka Charlie, being raised by a single dad and three older brothers has its perks. She can out-run, out-score, and outwit every boy she knows--including her long-time neighbor, and honorary fourth brother, Braden.

But when it comes to being a girl, Charlie doesn't know the first thing about anything. So when she starts working at a chi-chi boutique to pay off a speeding ticket, she finds herself in a strange new world of makeup, lacy skirts, and bedazzlers. Even stranger, she's spending time with a boy who has never seen her tear it up in a pick-up game.

To cope with the stress of faking her way through this new reality, Charlie seeks late night refuge in her backyard, talking out her problems with Braden by the fence that separates them. But their Fence Chats can't solve Charlie's biggest problem: she's falling for Braden. Hard. She knows what it means to go for the win, but if spilling her secret means losing him for good, the stakes just got too high.
4.5 stars out of 5 stars
*I received an eARC of this book from the publisher but it did not influence this review in any way.*
As my first Kasie West book, I think I may have found a new author to look forward to. I've said before that the friends to more story line is one of my favorite and I knew that with just reading the synopsis of this book I was going to love it.
I love Charlie and Braden's friendship. They tease each other like siblings would but their chemistry together is certainly hot. I love how they are able to read the other so perfectly and their banter had me lol-ing out loud. Charlie is such a cool girl. I would love to have her as friend but I think she would be irritated by how little of sports I know. But with her sense of humor and her witty comebacks, it would be so easy to get along with her. Braden is such a sweetheart. I loved him. He's the perfect balance for Charlie. He accepts her for who she is and who she can become. What more could a girl ask for?
My favorite part of the book? Charlie's brothers. They are hilarious, sneaky, creative, and you can see that they really care about Charlie. I love how they trust her judgment and opinions but aren't overbearing as I've seen in some books. They want to take care of her because she's the baby of the family but it not like they treat her like she's an invalid.
On the Fence is like a breathe of fresh air. Even though is sounds like it just another fluffy, romance read, it so much more than that. It about a girl coming into herself and dealing with repercussions of the past that hasn't been dealt with. Kasie West has done such a great job with reeling me in with her story telling and I can't wait to pick up her other books. I can't wait for everyone to read this and flail with me because it so good. So when it comes out, go and buy and read it and then come back so we can chat all about it.