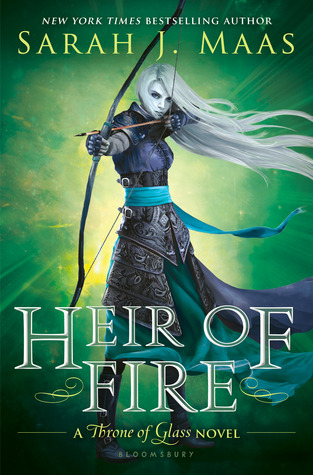 Heir of Fire
(Throne of Glass #3)
Author:
Sarah J. Maas
Release Date: September 2, 2014
Publisher:
Bloomsbury
Source: BEA 2014 / NetGalley
Review by: Jenn
Lost and broken, Celaena Sardothien's only thought is to avenge the savage death of her dearest friend: as the King of Adarlan's Assassin, she is bound to serve this tyrant, but he will pay for what he did. Any hope Celaena has of destroying the king lies in answers to be found in Wendlyn. Sacrificing his future, Chaol, the Captain of the King's Guard, has sent Celaena there to protect her, but her darkest demons lay in that same place. If she can overcome them, she will be Adarlan's biggest threat – and his own toughest enemy.

While Celaena learns of her true destiny, and the eyes of Erilea are on Wendlyn, a brutal and beastly force is preparing to take to the skies. Will Celaena find the strength not only to win her own battles, but to fight a war that could pit her loyalties to her own people against those she has grown to love?
5 stars out of 5 stars (But in reality, ALLLLLLL THE STARS)
How do I even begin in talking about this book without sounding like a bumbling, rambling fangirl? I can't. I can't properly express and summarize how I felt, what happened, without giving away some plot points and giving this book it's justice that it so plainly deserves. All the details that went in making this storytelling so unique and everything that I learn, it amazing how it all going to tie itself together.
All I'm going to say in regards to the plot is how everything is so intricately interwoven and I'm so amazed at how it has played out. Celaena has also continued to grow and when she finally tells her story, my heart just breaks for her. But my respect for her just continues to grow with every book. Meeting all the characters, felt at times, like too much information was being given to me, but without their stories, we would certainly be missing out on important story lines and would then be confused later on in the series.
Everything that happens to Celaena and to Rowan, Manon, Chaol, Dorian and Aedion, everything that they endured, it is amazing how much hope, will, and perseverance they have. I've said this before, but if the world ever goes to hell, I would want to be on Celaena Sardorthien's team. She gets shit down. Especially if Rowan is on the team as well. I'm all about Team Rowan now.
Sarah J. Maas has created a world I can picture so vividly in my head and I can so easily picture it on the big screen as well. I honestly don't know how she does it, but I am immensely grateful that she created the
Throne of Glass
world. It has become one of my favorite series and I can't not recommend this series to everyone. It is SO good and I can't WAIT to see what else she does next and I NEED BOOK 4 RIGHT NOW. I NEED IT I SAY. So if you haven't started this series, PLEASE, go out and buy the book. It will not regret it. And if you're anxiously awaiting the release of
Heir of Fire
? Two more weeks until this baby is out and you can finally get your fix of Celaena and you will LOVE it.