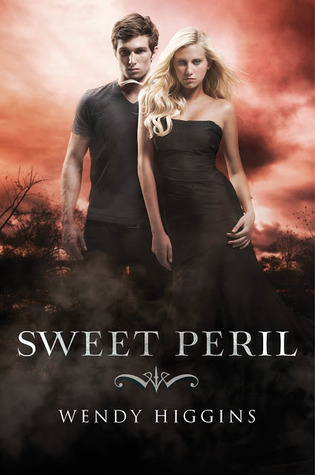 Sweet Peril (Sweet Trilogy #2)
Author:
Wendy Higgins
Release Date: April 30, 2013
Publisher:
HarperTeen
Source: Personal Copy
Review by: Nahomi
Anna Whitt, the daughter of a guardian angel and a demon, promised herself she'd never do the work of her father—polluting souls. She'd been naive to make such a vow. She'd been naive about a lot of things.

Haunted by demon whisperers, Anna does whatever she can to survive, even if it means embracing her dark side and earning an unwanted reputation as her school's party girl. Her life has never looked more bleak. And all the while there's Kaidan Rowe, son of the Duke of Lust, plaguing her heart and mind.

When an unexpected lost message from the angels surfaces, Anna finds herself traveling the globe with Kopano, son of Wrath, in an attempt to gain support of fellow Nephilim and give them hope for the first time. It soon becomes clear that whatever freedoms Anna and the rest of the Neph are hoping to win will not be gained without a fight. Until then, Anna and Kaidan must put aside the issues between them, overcome the steamiest of temptations yet, and face the ultimate question: is loving someone worth risking their life?
4 stars out of 5 stars
Okay, So I had been procrastinating on reading
Sweet Peril
because I was afraid I would be disappointed with the story. Luckily that wasn't the case.
Sweet Peril
is the continuation of Anna's story in her quest to build an alliance in order to fight the dukes and gain freedom for herself and the rest of the Nephs. Basically what this means, is that she travels a lot and there is a lot of great descriptions of the different destinations she gets to travel to. The thing is that after a while I found myself speed-reading through said descriptions, just so I could get to the action part, and to Kaiden.
I already knew he wasn't a big part of
Sweet Peril
because Anna and him aren't supposed to be seeing each other, but I really missed his sense of humor throughout the majority of the story. I really enjoyed seeing how Ginger and Anna's relationship progressed as well as Anna's relationship with Belial. There was definitely more Kopano throughout the story and I was really upset at how Anna handled the situation with him. Anna was reacting to being hurt by Kaiden and used Kope in order to try and forget Kai. It was wrong on so many levels that even Anna was ashamed for acting the way she did.
All in all the plot kind of sagged in the middle but when the pace finally picked up towards the end there was a lot of suspense and heart ache going on. I was so happy when Anna and Kaiden where finally able to get together. Apart from the speed-reading through some of the excessive details I really enjoyed
Sweet Peril
.