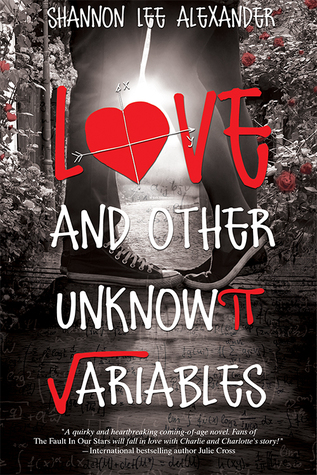 Love and Other Unknown Variables
Author:
Shannon Lee Alexander
Release Date: October 7, 2014
Publisher:
Entangled Teen
Source: YA Bound for Blog Tour
Review by: Jenn
Charlie Hanson has a clear vision of his future. A senior at Brighton School of Mathematics and Science, he knows he'll graduate, go to MIT, and inevitably discover solutions to the universe's greatest unanswered questions. He's that smart. But Charlie's future blurs the moment he reaches out to touch the tattoo on a beautiful girl's neck.
The future has never seemed very kind to Charlotte Finch, so she's counting on the present. She's not impressed by the strange boy at the donut shop—until she learns he's a student at Brighton where her sister has just taken a job as the English teacher. With her encouragement, Charlie orchestrates the most effective prank campaign in Brighton history. But, in doing so, he puts his own future in jeopardy.
By the time he learns she's ill—and that the pranks were a way to distract Ms. Finch from Charlotte's illness—Charlotte's gravitational pull is too great to overcome. Soon he must choose between the familiar formulas he's always relied on or the girl he's falling for (at far more than 32 feet per second squared).
5 stars out of 5 stars
This book is absolute perfection. It has swoons, some funny bits, and it has Charlie Hanson. Charlie is just the cutest, nerdy boy and I just love him. I love that this book is in a male POV and how well done it is. Sometimes, a woman is writing a guy voice sounds like a woman and vice versa, but this book? I forgot it was written by a woman.
Love and Other Unknown Variables
follows Charlie as he navigates senior year with his best friends, Greta and James. On his first day of school, he meets Charlotte Finch. During their meeting, he recounts his past interactions with other girls, which were rather unsuccessful, and it was during that scene that I fell for him. He is an absolute sweetheart, but also very funny and real. Although he's obsessed with math, he comes to realize that the world of poetry, Shakespeare and literature isn't so bad after all.
I love all the characters that we were introduced to: Charlotte, Becca (Charlie's younger sister), Greta, James, and especially Mrs. Dunwitty. They all played a role in helping Charlie's story move along. Each character had an impact on Charlie and it was so amazing to see how he changed but stayed the same nerdy Charlie that I came to love.
I really loved this book. The story, the characters, the ending, everything. Charlie's voice is so clear and easy to just get into. I would love to see how his story continues. Ms. Alexander did a wonderful job in creating a heartfelt story with characters that I can easily see being friends with. I'm extremely happy to learn that Ms. Alexander will be writing a new book based on Becca. I'm curious to see how her story plays out, especially after the ending.
I can't wait to go out and buy my finish copy and I hope everyone does as well. This is one book you won't want to miss out on.
You can also follow the rest of the blog tour by clicking
here
.

Giveaway
There are several prizes being given away. For the grand prize:
For 2nd place:
And for 3rd place:
About the author:
Shannon Lee Alexander is a wife, mother (of two kids and one yellow terrier named Harriet Potter). She is passionate about coffee, books, and cancer research. Math makes her break out in a sweat. Love and Other Unknown Variables is her debut novel. She currently lives in Indianapolis with her family.