Have a favorite book? Series? One that you've just read or are currently reading? Favorite Friday is a weekly meme hosted by
Books and Swoons
where we spotlight some of our Favorite Reads. Everyone is welcome to join. Just enter your information on the linky or leave us a comment!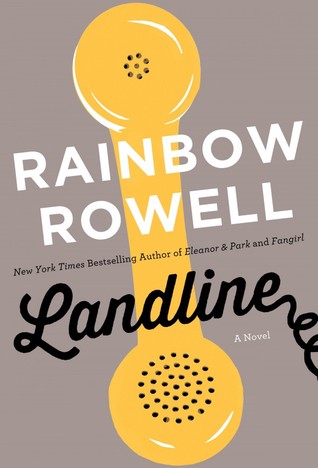 Georgie McCool knows her marriage is in trouble. That it's been in trouble for a long time. She still loves her husband, Neal, and Neal still loves her, deeply — but that almost seems beside the point now.

Maybe that was always beside the point.

Two days before they're supposed to visit Neal's family in Omaha for Christmas, Georgie tells Neal that she can't go. She's a TV writer, and something's come up on her show; she has to stay in Los Angeles. She knows that Neal will be upset with her — Neal is always a little upset with Georgie — but she doesn't expect to him to pack up the kids and go home without her.

When her husband and the kids leave for the airport, Georgie wonders if she's finally done it. If she's ruined everything.

That night, Georgie discovers a way to communicate with Neal in the past. It's not time travel, not exactly, but she feels like she's been given an opportunity to fix her marriage before it starts . . .

Is that what she's supposed to do?

Or would Georgie and Neal be better off if their marriage never happened?
You all know how much I love Rainbow, right? If you hadn't, well now you know because this is my second time using a Rainbow book and we've been only doing Favorite Friday for 16 weeks. Rainbow manages to create such real and authentic characters that you feel like you know them in real life. If you haven't read her books, I say RUN and get her books. Any one, I'm not being picky. Go on now.
About the author:
Rainbow Rowell writes books.


Sometimes she writes about adults (Attachments and Landline).

Sometimes she writes about teenagers (Eleanor & Park and Fangirl).

But she always writes about people who talk a lot. And people who feel like they're screwing up. And people who fall in love.

When she's not writing, Rainbow is reading comic books, planning Disney World trips and arguing about things that don't really matter in the big scheme of things.

She lives in Nebraska with her husband and two sons.
Author's links: Website / Twitter / Facebook / Tumblr
I hope you can join us in sharing and talking about some of your favorite reads. Book talk always make me happy.
What are one of your favorite reads?