Have a favorite book? Series? One that you've just read or are currently reading? Favorite Friday is a weekly meme hosted by
Books and Swoons
where we spotlight some of our Favorite Reads. Everyone is welcome to join. Just enter your information on the linky or leave us a comment!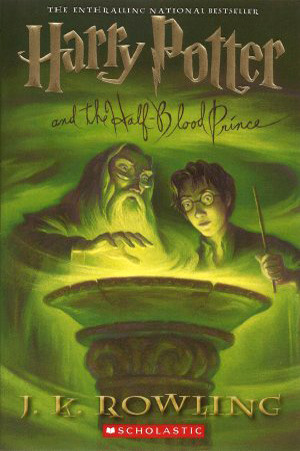 It is the middle of the summer, but there is an unseasonal mist pressing against the windowpanes. Harry Potter is waiting nervously in his bedroom at the Dursleys' house in Privet Drive for a visit from Professor Dumbledore himself. One of the last times he saw the Headmaster was in a fierce one-to-one duel with Lord Voldemort, and Harry can't quite believe that Professor Dumbledore will actually appear at the Dursleys' of all places. Why is the Professor coming to visit him now? What is it that cannot wait until Harry returns to Hogwarts in a few weeks' time? Harry's sixth year at Hogwarts has already got off to an unusual start, as the worlds of Muggle and magic start to intertwine...

J.K. Rowling charts Harry Potter's latest adventures in his sixth year at Hogwarts with consummate skill and in breathtaking fashion.
It's Harry Potter, I don't think I need to explain myself at why this is favorite. But I will say that this is one of my favorite in the series. Out of all the books,
Half-Blood Prince
, for me, is the darkest one in tone. Even with
Deathly Hallows
, I feel like there was this element of hope. With
Half-Blood Prince
, there's this uncertainty and you just don't know what's going to happen.
Everyone needs to read these books. They just do. *stares at Nahomi* *stares at
Daisel
* *looks at books* *stares at them some more* Ahem. Anyways. It Harry Potter. They have Hogwarts. That's all you need to know. Read it.
About the author:
Joanne Rowling was born in July 1965 at Yate General Hospital in England and grew up in Chepstow, Gwent where she went to Wyedean Comprehensive.
Jo left Chepstow for Exeter University, where she earned a French and Classics degree, her course including one year in Paris. As a postgraduate she moved to London and worked as a researcher at Amnesty International among other jobs. She started writing the Harry Potter series during a delayed Manchester to London King's Cross train journey, and during the next five years, outlined the plots for each book and began writing the first novel.

Jo then moved to northern Portugal, where she taught English as a foreign language. She married in October 1992 and gave birth to a daughter in 1993. When the marriage ended, she and Jessica returned to the UK to live in Edinburgh, where Harry Potter & the Sorcerer's Stone was eventually completed. The book was first published by Bloomsbury Children's Books in June 1997, under the name J.K. Rowling. The "K", for Kathleen, her paternal grandmother's name was added at her publisher's request who thought that a woman's name would not appeal to the target audience of young boys.

As well as an OBE for services to children's literature, J.K. Rowling is the recipient of numerous awards and honorary degrees including the Prince of Asturias Award for Concord, France's Légion d'Honneur, and the Hans Christian AndersenLiterature Award, and she has been a Commencement Speaker at Harvard University USA. She supports a wide number of charitable causes through her charitable trust Volant, and is the founder of Lumos, a charity working to transform the lives of disadvantaged children.

J.K. Rowling lives in Edinburgh with her husband and three children.
I hope you can join us in sharing and talking about some of your favorite reads. Book talk always make me happy.
What are one of your favorite reads?