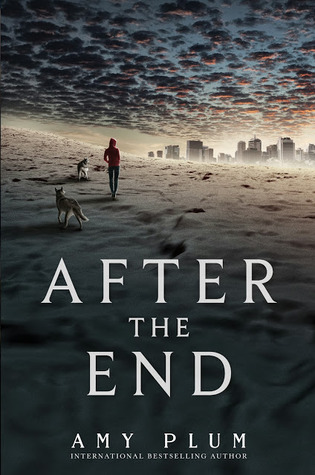 After The End
(After The End #1)
Author:
Amy Plum
Release Date: May 6, 2014
Publisher: HarperTeen
Source: Signed copy from BEA14
Review by: Nahomi
She's searching for answers to her past. They're hunting her to save their future. World War III has left the world ravaged by nuclear radiation. A lucky few escaped to the Alaskan wilderness. They've survived for the last thirty years by living off the land, being one with nature, and hiding from whoever else might still be out there.

At least, this is what Juneau has been told her entire life.

When Juneau returns from a hunting trip to discover that everyone in her clan has vanished, she sets off to find them. Leaving the boundaries of their land for the very first time, she learns something horrifying: There never was a war. Cities were never destroyed. The world is intact. Everything was a lie.

Now Juneau is adrift in a modern-day world she never knew existed. But while she's trying to find a way to rescue her friends and family, someone else is looking for her. Someone who knows the extraordinary truth about the secrets of her past.
4 stars out of 5 stars
I loved Amy Plum's Revenants series, so when I heard that she was coming out with a new series I was so excited to read it. I finally got around to reading it and I wasn't disappointed. It was a little difficult for me to get into in the beginning because of all of the back story and terminology being introduced but once I got passed that I was invested in the Juneau's journey.
After The End
is a heart clenching story. Juneau is forced to deal with the loss of her family and finding out about being betrayed by the elders of her clan. The story is an emotional roller coaster of Juneau trying to find herself among the lies she grew up in. All the while being hunted down by several people for reasons unknown to her. There are several moments full of tension and suspense throughout the novel. The level of suspense and mystery kept me turning pages and left me with the need to find out what happens next.
Juneau is naive but is very in touch with her instincts and although she is lost and has doubts about everything she has been taught, she tries to stay true to herself. She is kind and fierce all at the same time. Miles, on the other hand, is selfish. I get that he has abandonment issues and maybe his actions are more to call attention than anything else but until the end of the story there is not one redeeming quality in him. Together they are the odd couple but it works.
The plot the pacing and the characters are all good. I enjoyed reading
After The End
and am curious to see what happens in
Until The Beginning
.