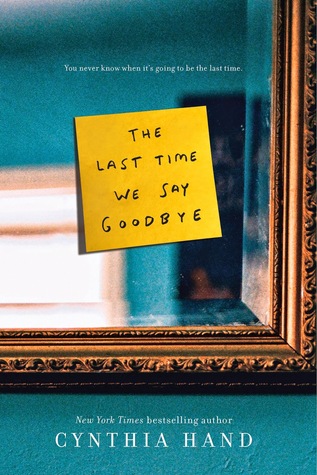 The Last Time We Say Goodbye
Author:
Cynthia Hand
Release Date: February 10, 2015
Publisher:
Harper Teen
Source: Edelweiss
Review by: Jenn and Nahomi
There's death all around us.
We just don't pay attention.
Until we do.

The last time Lex was happy, it was before. When she had a family that was whole. A boyfriend she loved. Friends who didn't look at her like she might break down at any moment.

Now she's just the girl whose brother killed himself. And it feels like that's all she'll ever be.

As Lex starts to put her life back together, she tries to block out what happened the night Tyler died. But there's a secret she hasn't told anyone-a text Tyler sent, that could have changed everything.

Lex's brother is gone. But Lex is about to discover that a ghost doesn't have to be real to keep you from moving on.
Jenn's Rating: 5 stars out of 4 stars
Nahomi's Rating: 5 stars out of 5 stars
Overall Rating: 5 stars out of 5 stars
*We received an eARC of this book from the publisher but it did not influence this review in any way.*
Nahomi:
The Last Time We Say Goodbye is a beautifully told story of a family dealing loss of their loved one. I was emotionally exhausted by the time I finished this book. Cynthia Hand does a beautiful job of depicting the grief and emotional turmoil that accompanies the death of a loved one.
From the beginning I was invested in Lexi's Journey through the healing process. The writing was flawless as always with Ms. Hand. Throughout the novel there was this sense of mystery which kept me turning pages. There were several points in the book where I found myself sobbing like a baby. Although I was depressed for a few days after I read this book I absolutely loved
The Last Time We Say Goodbye
.
Jenn:
There is just something about Cynthia Hand and her story telling that just manage to sucks me and lets me forget the world.
The Last Time We Say Goodbye
is another work of Ms. Hand that I will forever remember. There were so many times throughout the book where I had to stop and finish crying because I just couldn't see through my tears.
The Last Time We Say Goodbye
follows the story of Lex as she deals with the aftermath her brother's death. I won't say much in regards to the plot but I will say that once I started reading, I just couldn't put it down. I just had to know what happened next and I wanted for Lex to get some closure. Ms. Hand managed to create such emotions in me that I felt Lex's pain and sadness and I, too, couldn't see through the fog of Lex's grief.
It is because of this, this intense reaction of emotions that I will forever be a fan of Cynthia Hand and her work. And reading her acknowledgement? I was a blubbering mess. I started crying all over again and it made this reading experience that more profound. So I want to thank Cynthia Hand for creating this book and for creating such emotions in me. But I especially want to say thank you for sharing this story. It must not have been easy to do so.
So go out and read this book. Just make sure to grab some tissues before sitting down.