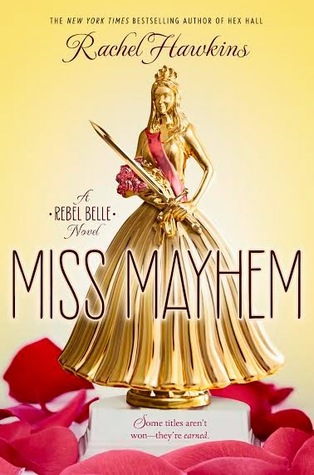 Miss Mayhem
(Rebel Belle #2)
Author:
Rachel Hawkins
Release Date: April 7, 2015
Publisher:
Putnam Juvenile
Source: Putnam Juvenile
Review by: Jenn
Life is almost back to normal for Harper Price. The Ephors have been silent after their deadly attack at Cotillion months ago, and best friend Bee has returned after a mysterious disappearance. Now Harper can return her focus to the important things in life: school, canoodling with David, her nemesis-turned-ward-slash-boyfie, and even competing in the Miss Pine Grove pageant.

Unfortunately, supernatural chores are never done. The Ephors have decided they'd rather train David than kill him. The catch: Harper has to come along for the ride, but she can't stay David's Paladin unless she undergoes an ancient trial that will either kill her . . . or connect her to David for life.
Rating: 4 stars out of 5 stars
*I received an ARC of this title from the publisher in exchange for an honest review. However it did not influence this review in any way.*
Miss Mayhem
is another book that is filled with Rachel Hawkins known snark and witty female characters. I know that when I'm about to read a Rachel Hawkins book, I will be getting the snark, the sarcasm, and the usual badassery her characters brings. And boy did Harper bring some badassery. Harper continues her streak as take control of the situation in
Miss Mayhem
but unfortunately it ended up not working all that great for her.
Miss Mayhem
deal with the events after
Rebel Belle
which means that Bee, Harper's best friend, is gone and her ex-boyfriend is her new boyfriend's, David, Mage causing for some weird situations. Soon after the start of
Miss Mayhem
beginning, Bee is returned but not without some unfortunate news for Harper. What happens afterwards, set the tone for the rest of the book.
Miss Mayhem
developed a bit slow at time but when it picked up, I couldn't help but follow Harper and company along for the ride. I had a feeling the book was going to end the way it but I still hoped for a different ending. I need to know what happens next because OMG. I have questions, I have concerns. When will we know when the next book will be release. These are legit questions here.