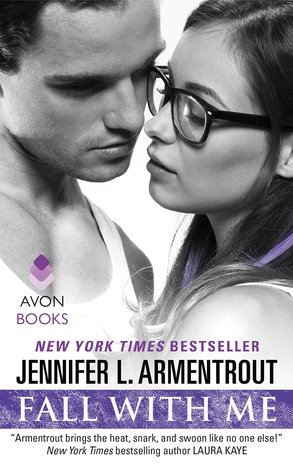 Fall With Me
(Wait for You #4)
Author:
Jennifer L. Armentrout
Release Date: March 31, 2015
Publisher: Harper Collins (Avon)
Source: Personal Copy
Review by: Nahomi
Eleven months ago, bartender and weird-shirt-wearing extraordinaire Roxy and Officer Reece Anders had a one night stand. Well, kind of. She's been in love with him since she was fifteen, and he wishes that night they shared never happened. She's sworn him off forever, but the past and future collide, forcing her to rely on the one man who broke her heart not once, but twice.

Her best friend since birth has been in a long-term care facility since he became a victim of a hate crime years ago, and the person who put him in there is out of prison and wanting to make amends with him and Roxy. She's not sure she has room for forgiveness in her and when she begins to receive frightening messages and is on the receiving end of escalating violence, she thinks she knows who is to blame. The man who already destroyed one life already.

But Reece isn't convinced. The threats are too personal, and even if Roxy doesn't believe him, he's not willing to let anyone hurt her. Including himself. He's already messed up more than once when it comes to Roxy and he's not going to let history repeat itself.
5 stars out of 5 stars
Jennifer Armentrout does it again, I am totally obsessed with
Fall With Me
! OMG, I finished this book in a day, I just couldn't put it down. This book had all of the elements I love in a story: great plot, funny protagonist, hott sweet sexy and thoughtful guy, and suspense to top it all off.
Holy Canoli this is one of the creepiest books I have ever read. I was suspicious for the first part and the second half had my heart racing until the very end. I was all over the place, experiencing so many emotions from one moment to the next. I was fully immersed in this story.
I love how well the characters are written. Roxy is funny, brave, and artistic. She doesn't take any crap from anyone and I admire that quality in a character. Reece is *fans self* is currently knocking down some of my books boyfriends. He is a former Marine turned cop with a chiseled body, but that's not all. Oh no he is also very thoughtful, sweet, funny and a little rough around the edges. I mean if there is a perfect guy out there for me I definitely think Reece is it.
Together Roxy and Reece have this amazing chemistry. What I like about them together is that they were friends first and although their history is a little rough, it makes the chemistry between these two so much better. You will need a tank of ice water to cool you off after reading the sexy scenes. Jeez they were soo HOT!
Not only was getting to know Roxy and Reece great, but I got to catch up with the characters from the previous three books and I was so giddy to see what was going on in their lives again that it was an added bonus.
Fall With Me
is by far one of my favorite books in this series!