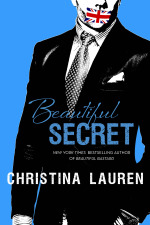 Beautiful Secret
(Beautiful Bastard # 4)
Author:
Christina Lauren
Release Date: April 14, 2015
Publisher:
Gallery Books
Source: Gallery Books
Review by: Jenn and Nahomi
When Ruby Miller's boss announces he's sending her on an extended business trip to New York City, she's shocked. As one of the best and brightest young engineers in London, she knows she's professionally up to the task. The part that's throwing her is where she'll be spending a month up close and personal working alongside—and staying in a hotel with—Niall Stella, her firm's top urban planning executive and The Hottest Man Alive. Despite her ongoing crush, Ruby is certain Niall barely knows she's alive…until their flirty overnight flight makes him sit up and take notice.
Not one for letting loose and breaking rules, recently divorced Niall would describe himself as hopeless when it comes to women. But even he knows outgoing California-girl Ruby is a breath of fresh air. Once she makes it her mission to help the sexy Brit loosen his tie, there's no turning back. Thousands of miles from London, it's easy for the lovers to play pretend. But when the trip is over, will the relationship they've built up fall down?
Jenn's Rating: 4 stars out of 5 stars
Nahomi's Rating: 4 stars out of 5 stars
Overall rating: 4 stars out of 5 stars
*We received an ARC of this book from the publisher but it did influence this review in any way.*
Jenn
:
Christina Lauren have done it again. They created another story where I became completely invested in its characters and in what happens to them. I had a blast reading this book and found myself laughing at the situation Ruby and Niall would get themselves into. Ruby reminded me of Hanna from
Beautiful Player
with her honesty and by how straightforward she is. I loved getting to know her and Niall. Niall is different from Max and the other heroes Christina Lauren have written. Niall is unsure of himself and Ruby is the one who manage to seek him out. While I enjoyed getting to know Niall, I must confess that Will and Max remain as my favorite heroes from the Beautiful series.
I'm very fond of Christina Lauren and their books. I've read the majority of their books and I don't see myself stopping. They write realistic and well-developed characters and very swoony heroes. Go read this book.
Nahomi
:
True to form Christina Lauren deliver another great story in
Beautiful Secret.
This story is one of the funniest of all of the their books. Ruby is hilarious! There were so many moments I found myself laughing out loud. Not only is she funny, Ruby is also intelligent, strong and isn't afraid to speak her mind. I enjoyed getting to know Ruby and Niall, although Niall is not my cup of tea. Unlike their other leading men Niall is very unsure of himself (he has his reasons). I found his internal monologue to be exhausting at times, because he tends to overthink everything.
With the exception of Niall's over thinking, I found the story to be very enjoyable. I loved the setting and how the plot developed. Christina Lauren does a phenomenal job of creating stories and characters and are engaging fun to read.