I have the lovely Brighton Walsh on the blog today for today blog tour stop of her newest book,
Exposed
, second in the companion series of
Captive
. Here is a little on
Exposed
: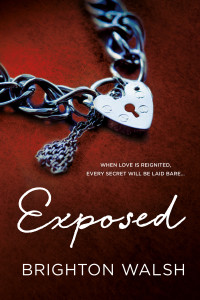 Exposed
(Captive #2)
Author:
Brighton Walsh
Release Date: July 21, 2015
Publisher: St. Martin's Griffin
Formats: Trade Paperback Original & eBook
Price: TPO $14.99 / eBook $9.99
Love can be lost but never forgotten. Beautiful, sophisticated, and engaged to the son of a Senator, Evie Masterson has the perfect life. Except for one thing: it's all based on a lie. Five years ago, she created a new identity for herself and cut all ties to her criminal past. But she can't run forever, because something she witnessed years ago comes back to haunt her. And the only person there to help is the man she thought she left behind forever—the one man she's never been able to forget.

Devastatingly gorgeous and just as ruthless, Riley Everett is the criminal for hire who once stole Evie's heart. Years have gone by, but he's never been able to forget her either. Now her life is in jeopardy, and even after all this time, he'd still do anything to protect her, even if that means breaking into her mansion and stealing her away.

As they hide from the world, their long-lost passion reignites. But despite their undeniable chemistry, Evie can't give up the perfect life she's been working toward...and Riley has no part in it.
I'm super excited to have Brighton stopping by because I've been a fan of hers for ages and I LOVE her writing and her heroes. Her heroes just does something for because each and every time, I'm left more in love with her characters. But there's something I particularly love about Brighton's work. I love how she has visual images on her characters. More specifically, her male characters. Brighton has this handy Pinterest board that she has where gets her *ahem* heroes ideas from.

Brighton:
I initially started using Pinterest for my personal life—recipes and kids' birthday party ideas and DIY decorations for holidays. Then, a couple years ago, I stumbled across Jill Shalvis' Pinterest account, and thought, whoa…there are a lot of *ahem* very nice looking inspirational things available on Pinterest. Maybe I should start an author account?

Almost two-thousand pins later, nearly half of which are smokin' hot dudes, and my author Pinterest board is my go-to when I'm looking for inspiration for my characters. Don't get me wrong, I also have boards for heroines and locations and details. But let's be real: the hero board is where it's at.

When I'm going through and finding images to pin to my board for possible future use, I look for different things. At first, I was a lot less picky about who I'd pin there. Hot, half-naked guy in low slung jeans? Okay. Firefighter in any form of dress? Yes, please. Rugged, outdoorsman? Twist my arm.

Now, though, with so many pins, and thus so many pins to weed through when I need a look for a new hero, I've found my tastes are a bit more discerning. If you look at my board, you can see I very obviously have a type: tall, dark and handsome. (Shout out to my hubs who fits all three!) When I'm pinning new images now, I try to think about how I could use it, if I could see him as a hero in a future book, if he has a different look than the guys I've already got pinned on there. It also helps to have a range of ages available as inspiration, as I write everything from new adult to adult, heroes ranging from early-twenties to mid-thirties.

So there you have it, my selection process and what goes through my mind when I'm choosing these images. Although, I'll be honest…a lot of times when I'm browsing these pins, all that goes through my head is: jkfldjsakljckdsnacjk.

It's a hard job, but someone's gotta do it.

About the author:
Brighton Walsh spent nearly a decade as a professional photographer before deciding to take her storytelling in a different direction and reconnect with her first love: writing. When she's not pounding away at the keyboard, she's probably either reading or shopping—maybe even both at once. She lives in the Midwest with her husband and two children, and, yes, she considers forty degrees to be hoodie weather. Her home is the setting for frequent dance parties, Lego battles, and more laughter than she thought possible.
Her debut novel, Caged in Winter, is available now from Berkley/Penguin. She is represented by Mandy Hubbard of D4EO Literary Agency.