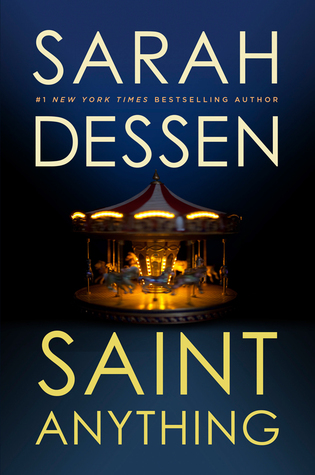 Saint Anything
Author:
Sarah Dessen
Release Date: May 5, 2015
Publisher: Penguin Books
Source: Personal Copy
Review by: Nahomi
Peyton, Sydney's charismatic older brother, has always been the star of the family, receiving the lion's share of their parents' attention and—lately—concern. When Peyton's increasingly reckless behavior culminates in an accident, a drunk driving conviction, and a jail sentence, Sydney is cast adrift, searching for her place in the family and the world. When everyone else is so worried about Peyton, is she the only one concerned about the victim of the accident?

Enter the Chathams, a warm, chaotic family who run a pizza parlor, play bluegrass on weekends, and pitch in to care for their mother, who has multiple sclerosis. Here Sydney experiences unquestioning acceptance. And here she meets Mac, gentle, watchful, and protective, who makes Sydney feel seen, really seen, for the first time.


3.5 stars out of 5 stars
Saint Anything
is beautifully written coming of age story; that focuses on Sydney and her family trying to cope after a devastating accident changes their lives forever. I love reading stories by Sarah Dessen; she has a way of writing that just sucks me in to the story. However for me
Saint Anything
was just ok.
Don't get my wrong it still has Sarah Dessen's wonderful writing and there are definitely swoons involved, but I felt the pace was a little slow and overall I was frustrated with Sydney's situation (mainly her mom). Sydney is a great character although I felt very frustrated throughout the story because she really didn't stick up for herself, especially in the beginning. However, Sydney shows tremendous character growth by the end of the story.
Saint Anything
has a lot of good themes and is well written, but it isn't one of my favorite Sarah Dessen stories.