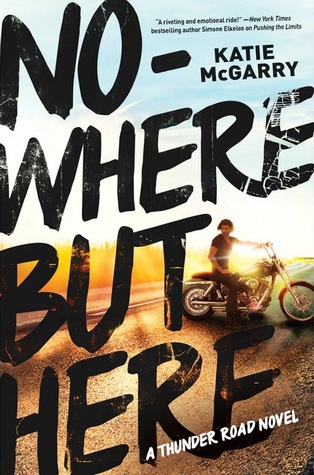 Nowhere But Here
(Thunder Road #1)
Author:
Katie McGarry
Release Date: May 26, 2015
Publisher: Harlequin Teen
Source: Harlequin Teen
Review by: Jenn and Nahomi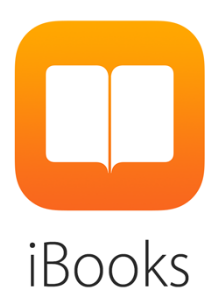 Seventeen-year-old Emily likes her life the way it is: doting parents, good friends, good school in a safe neighborhood. Sure, she's curious about her biological father—the one who chose life in a motorcycle club, the Reign of Terror, over being a parent—but that doesn't mean she wants to be a part of his world. But when a reluctant visit turns to an extended summer vacation among relatives she never knew she had, one thing becomes clear: nothing is what it seems. Not the club, not her secret-keeping father and not Oz, a guy with suck-me-in blue eyes who can help her understand them both.

Oz wants one thing: to join the Reign of Terror. They're the good guys. They protect people. They're…family. And while Emily—the gorgeous and sheltered daughter of the club's most respected member—is in town, he's gonna prove it to her. So when her father asks him to keep her safe from a rival club with a score to settle, Oz knows it's his shot at his dream. What he doesn't count on is that Emily just might turn that dream upside down.

No one wants them to be together. But sometimes the right person is the one you least expect, and the road you fear the most is the one that leads you home.
Jenn's rating: 4.5 stars out of 5 stars
Nahomi's rating: 4.5 stars out of 5 stars
Our overall rating: 4.5 stars out of 5 stars
*We received an ARC of this title from the publisher but it did not influence this review in any way.*
Jenn:
Katie McGarry has done it again. She has managed to hook me from the first page all the way to the last. I loved getting to know Emily and Oz and being in the town of Snowflake. Like in previous McGarry's books, I became curious about her secondary characters, such as Razor, Violet, and Chevy and I hope we get to see gang all over again.
Emily and Oz come from two very different world and are on two different paths. However, they are forced to come together when Emily has an unexpected visit to her biological father's town and her life becomes endangered. Oz is then forced to look out for Emily and what follows is a summer they weren't expecting.
Nowhere But Here
was such a wonderful read. I enjoyed every moment and I became invested in each and every character. Emily was an interesting character in getting to know. She leads a very sheltered life and I can see where her naïveté comes from but it was a little frustrating how she didn't understand the danger of a motorcycle club. She didn't believe that her life was in danger, which I can see her point of view, but I think her extreme disbelief of what was going on around her was a bit much. I also liked how she wasn't completely sold on being around her biological father's family and it made sense that she was hesitant about getting to know them. Her eventual relationship with Olivia was sweet and needed since Olivia was the only one, aside from Oz, that really pushed Emily to look around her and see that there is more to life than what she knows. Also, Olivia was a trip and I loved whenever there was a scene with her.
Oz was also an interesting character to get to know. He did a lot of growing up and I'm glad that he also realized that there is more to his life than the Reign of Terror. Just like he pushed Emily into giving the club a chance, Emily also pushed him to see outside the club. So I like how McGarry makes her characters see beyond themselves and strive for something better.
I can't wait to see what McGarry has in store for us next. Razor's book,
Walk the Edge
, certainly has me excited since he definitely intrigued me in this book. I can only imagine what his story will be like considering he did scared me half the time. So if you're a fan of Katie McGarry's
Pushing the Limits
series, this story is for you. AND there is a link between both series and I hope we get to see some of the
Pushing Limits
characters interacting with the characters of this series. So that should be exciting. I know it excites me, I'm here thinking up ways of how it can happen and OMG there's so many ways it can happen! Go read this book!
Nahomi:
Nowhere But Here
has all of the element that I love in a story. The mystery, suspense, romance and danger kept me turning pages until I finished. There is so much to love about this story! McGary creates characters are fleshed out and interesting. And world and familial bond between her these characters that had a way of sucking me into the story. The dual points of view were well written and gave me a broader picture of what was going on throughout the story.
Emily is a strong and stubborn and is determined to find out the truth about her past. I love that she eventually opens herself up to create new relationships with these strangers, that are her estranged family. The way that her relationship with Eli and Olivia developed had me all choked up. Oz is cute but a little judgmental in the beginning which was kind of a turn off to be honest. As the story progressed he grew on me. I loved the chemistry between Oz and Emily! The element of forbidden love between them made the story so much better.
Nowhere But Here
is a fast paced story that is beautifully written. I can't wait to get my hands on
Walk the Edge
or pretty much anything else Katie McGary writes!