Have a favorite book? Series? One that you've just read or are currently reading? Favorite Friday is a weekly meme hosted by
Books and Swoons
where we spotlight some of our Favorite Reads. Everyone is welcome to join. Just enter your information on the linky or leave us a comment!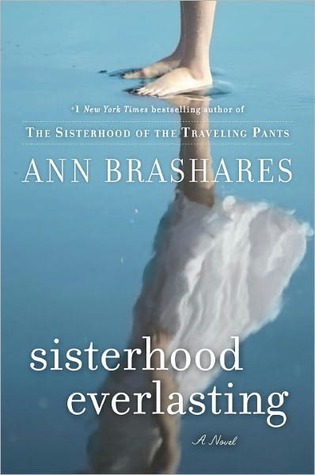 Four friends
One sisterhood
Ten years later, the story continues

On the cusp of turning thirty, Tibby, Lena, Carmen, and Bridget are now living separate lives, out on their own. Yet despite having jobs and men that they love, each knows that something is missing: the closeness that once sustained them. Carmen is a successful actress in New York, engaged to be married, but misses her friends. Lena finds solace in her art, teaching in Rhode Island, but still thinks of Kostos and the road she didn't take. Bridget lives with her longtime boyfriend, Eric, in San Francisco, and though a part of her wants to settle down, a bigger part can't seem to shed her old restlessness. Then Tibby reaches out to bridge the distance, sending the others plane tickets for a reunion that they all breathlessly await. And indeed, it will change their lives forever—but in ways that none of them could ever have expected.
I LOVED the Sisterhood of the Traveling Pants series and when I found out about this book, I bought it, sat down and didn't get up until I was done. I cried, I mourned the end of an era but I loved this book. It was so beautiful and if your a fan of the series, I seriously recommend this one if you haven't already read it. And if you have, let's hug. I know we need it.
About the author:
Ann Brashares is the #1 New York Times bestselling author of the Sisterhood of the Traveling Pants series, 3 Willows, The Last Summer (of You & Me), and My Name Is Memory. She lives in New York City with her husband and their four children.
I hope you can join us in sharing and talking about some of your favorite reads. Book talk always make me happy.
What are one of your favorite reads?