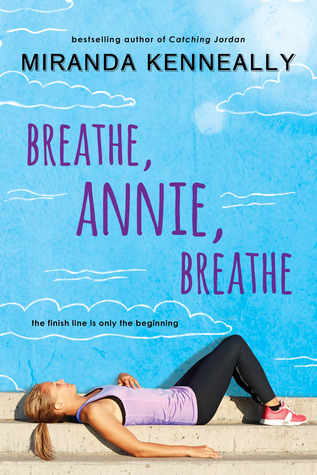 Breathe, Annie, Breathe (Hundred Oaks # 5)
Author:
Miranda Kenneally
Release Date: July 15, 2014
Publisher:
Sourcebooks Fire
Source: Blog Tour, NetGalley, ARC from BEA 2014
Review by: Jenn
Annie hates running. No matter how far she jogs, she can't escape the guilt that if she hadn't broken up with Kyle, he might still be alive. So to honor his memory, she starts preparing for the marathon he intended to race.

But the training is even more grueling than Annie could have imagined. Despite her coaching, she's at war with her body, her mind—and her heart. With every mile that athletic Jeremiah cheers her on, she grows more conflicted. She wants to run into his arms…and sprint in the opposite direction. For Annie, opening up to love again may be even more of a challenge than crossing the finish line.

"Breathe, Annie, Breathe is an emotional, heartfelt, and beautiful story about finding yourself after loss and learning to love. It gave me so many feels. Her best book yet." — Jennifer Armentrout, New York Times bestselling author of Wait for You.
4 stars out of 5 stars
I've had Miranda Kenneally's books on my TBR pile ever since
Catching Jordan
came out. I kept putting it off and what finally motivated me into reading her work was that I got approved to be a part of the blog tour.
Breathe, Annie, Breathe follows the story of Annie training to run a marathon in her boyfriend's memory. Right from the beginning, I was hooked. I loved the fact that Annie wasn't athletic and she struggled in keeping up with her training schedule. It made her seem so much more approachable and relatable. Annie is still grieving the death of her boyfriend Kyle and with how she feels responsible for it. Because of the guilt she carries, she struggle with the fact that she develops feelings towards Jeremiah. It doesn't help that Jeremiah is an adrenaline junkie and is always doing extreme sports and after losing someone close to her, Annie is not ready to be close to someone who is willing to put himself in danger.
This book was a great read and everything felt so realistic and rightly paced. From Annie's disastrous attempt at running her first mile to slowly building up her endurance, to feeling guilt and being hesitant at liking Jere to learning that it okay to move on as long as you're ready, and from having a rocky relationship with her friends and mother to clearing out the air between everyone. I loved getting to know Annie and all the characters. Since I haven't read the previous books, I wasn't aware that they're the characters featured in books 1 through 4 until after I finished the book. I really like how I ended caring for the secondary characters as much as I cared for Annie's outcome.
I love how Miranda managed to capture how detailed and rigorous training for a marathon truly is. Annie had to follow a meal plan, exercise schedule, and running schedule all outside of her weekly meet-up with her trainers. I thought the training part of the book would be boring or confusing but it was the exact opposite. Ms. Kenneally managed to create a wonderful balance between explaining how Annie trains to not making the book feels bogged down with unnecessary information. After reading this, I feel inspired into training for a marathon of my own. I think I'll take it easy the first time, though.
Miranda Kenneally has hooked me with her story telling. I can't wait until I get to read her previous books because I really enjoyed Breathe, Annie, Breathe. It is so easy to get swept up in the story and since I'm a lover of contemporary books, I know it'll be a match made in book heaven for me. If you're looking for a contemporary romance with some great characters development, I suggest to pick this one up; you won't regret it.
You can follow the rest of the tour by clicking
here
.
About the Author:
Growing up in Tennessee, Miranda Kenneally dreamed of becoming an Atlanta Brave, a country singer (cliché!), or a UN interpreter. Instead she writes, and works for the State Department in Washington, D.C., where George W. Bush once used her shoulder as an armrest. Miranda loves Twitter, Star Trek and her husband.

Author Links: Website / Facebook / Goodreads / Twitter