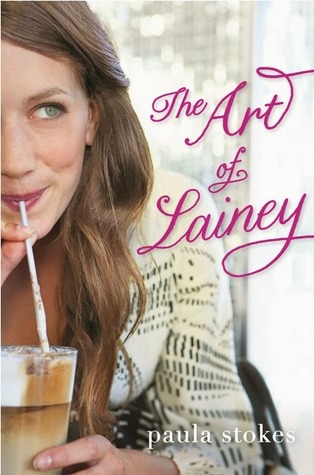 The Art of Lainey
Author:
Paula Stokes
Release Date: May 20, 2014
Publisher:
Harper Teen
Source: Edelweiss
Review by: Jenn
Soccer star Lainey Mitchell is gearing up to spend an epic summer with her amazing boyfriend, Jason, when he suddenly breaks up with her—no reasons, no warning, and in public no less! Lainey is more than crushed, but with help from her friend Bianca, she resolves to do whatever it takes to get Jason back.

And that's when the girls stumble across a copy of The Art of War. With just one glance, they're sure they can use the book to lure Jason back into Lainey's arms. So Lainey channels her inner warlord, recruiting spies to gather intel and persuading her coworker Micah to pose as her new boyfriend to make Jason jealous. After a few "dates", it looks like her plan is going to work! But now her relationship with Micah is starting to feel like more than just a game.

What's a girl to do when what she wants is totally different from what she needs? How do you figure out the person you're meant to be with if you're still figuring out the person you're meant to be?
3 stars out of 5 stars
*I received an eARC of this book from the publisher but it did not influence this review in any way.*
I was very excited about starting The Art of Lainey. I had several bookish friends who had read and loved it so I was hopeful for a great read. And I did get an interesting read. Here's what I have to say about it.
- Lainey
- She wasn't the nicest person and to be honest, I found her to be a little mean, selfish, and superficial.
- I wanted to bop Lainey on her forehead in order to make her see how wrong Jason, the ex-boyfriend, is for her.
- I can relate to Lainey in a the way she didn't know what she like because she was just following other people. (Side note: you eventually learn to follow your own tune but sometimes you end up reverting to your younger self.)
- I like that there was some character growth in Lainey. She learned about herself so she was able to stand up for herself and for her friends.
- Micah
- He's very sarcastic and I love that.
- Bianca and Leo
- I love them together and I love them seperately.
- Bianca is a wonderful friend to Lainey. She's very patient Lainey, even when Lainey was moping around and being insufferable.
- Leo was an absolute sweetheart.
I really like how Paula Stokes writes teenagers, The way she was able to convey their fears and insecurites rings very realistic. I love how she managed to incorporate The Art of War, which is a thousands years old, and managed to make it modern. I really enjoyed The Art of Lainey and I like that I saw character growth in Lainey. It a great, and quick read for a lazy Sunday.