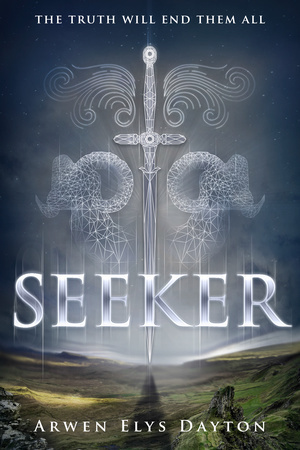 Seeker
(Seeker #1)
Author:
Arwen Elys Dayton
Release Date: February 10, 2015
Publisher: Delacorte Books for Young Readers
Source: NetGalley
Review by: Nahomi
Quin Kincaid has been put through years of brutal training for what she thinks is the noble purpose of becoming a revered 'Seeker'.

Only when it's too late does she discover she will be using her new-found knowledge and training to become an assassin. Quin's new role will take her around the globe, from a remote estate in Scotland to a bustling, futuristic Hong Kong where the past she thought she had escaped will finally catch up with her.
1 star out of 5 stars
*I received an eARC of this title from the publisher but it did not influenced this review in any way.*
***This is a Did Not Finish review. Therese are my thoughts of what I read.***
I am so disappointed that I wasn't able to get into
Seeker,
it sounded so good. I was really excited about getting into a new series full of action and mystery, but it just wasn't meant to be. I got 31% in and I couldn't continue reading for a couple of reasons. The concept is good but as I started reading my initial issue was with the narration. I've read books in third person and sometimes I have issues getting into them but if I'm hooked on the story then I can get over the narration issues. Unfortunately, that wasn't the case here. I found the narration to be confusing, making it hard to follow the story.
The main reason I couldn't continue reading is that even at 31% into the book I wasn't invested in the story. I wasn't connecting with any of the characters. Even after the initial revelation of what was actually happening in the story, I lost interest in what was happening. I tried several times to continue reading but I just couldn't get through it.