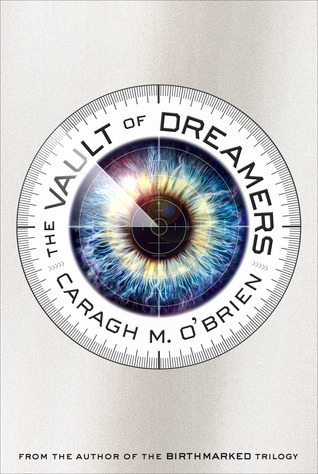 The Vault of Dreamers
(The Vault of Dreamers #1)
Author:
Caragh M O'Brien
Release Date: September 16, 2014
Publisher:
Roaring Brook Press
Source: BEA 2014
Review by: Jenn
The Forge School is the most prestigious arts school in the country. The secret to its success: every moment of the students' lives is televised as part of the insanely popular Forge Show, and the students' schedules include twelve hours of induced sleep meant to enhance creativity. But when first year film student Rosie Sinclair skips her sleeping pill, she discovers there is something off about Forge. In fact, she suspects that there are sinister things going on deep below the reaches of the cameras. What's worse, she starts to notice that the edges of her consciousness do not feel quite right. And soon, she unearths the ghastly secret that the Forge School is hiding—and what it truly means to dream there.
From the author of the Birthmarked trilogy comes a fast-paced, psychologically thrilling novel about what happens when your dreams are not your own.
2.5 stars out of 5 stars
I've been dying to start this book since I got back from BEA this past June. However, other responsibilties delayed me in starting it. And once I finally started it? I was completely hooked. I was so curious about The Forge School and how everything worked.
Rosie was an interesting enough character but I honestly couldn't see what made her so unique and special to have been in The Forge School to begin with. I also couldn't see what really prompted her to skip her sleeping pill and to go wandering about the school. I could see how she was curious in the middle of the book, but in the beginning? Not so much.
I will not give away plot spoilers but I will say that I quickly became exasperated with Rosie. When she discovers some secrets about The Forge School and an important player behind the scene, I just couldn't believe how she chose to just blurt everything that she knew without thinking of the consequences. I also feel like she became a different person towards the second of book because I couldn't understand her motivations at that point.
My other complaints with the book was Rosie's love interest, Linus. I found him to be more of convenient plot device than an actual love interest. I didn't find anything romantic about their relationship.
I'm disappointed with how this book turned out to be. I was really hooked and I couldn't read fast enough but then I hit a point in the book that I just stalled and couldn't pick it up. There were so many questions and not enough answers were being provided. I finished because I was just fed up with the book staring at me and wanting to know how it ended but it was a struggled. I think the last 30 or so pages, I skimmed most of it. I only learn that there would be a second book when I went on Caragh's Goodreads page and saw that she's writing a sequel. I was not expecting for there to be a second book and I think that also added to my disappointment. I was even confused with the ending and have no idea what really happened. I just hope some other reader does like it and maybe will tell me what I just can't understand.