Have a favorite book? Series? One that you've just read or are currently reading? Favorite Friday is a weekly meme hosted by
Books and Swoons
where we spotlight some of our Favorite Reads. Everyone is welcome to join. Just enter your information on the linky or leave us a comment!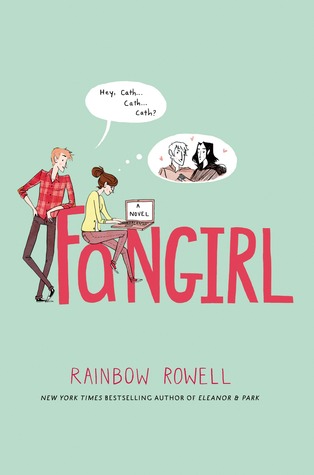 In Rainbow Rowell's Fangirl, Cath is a Simon Snow fan. Okay, the whole world is a Simon Snow fan, but for Cath, being a fan is her life—and she's really good at it. She and her twin sister, Wren, ensconced themselves in the Simon Snow series when they were just kids; it's what got them through their mother leaving.

Reading. Rereading. Hanging out in Simon Snow forums, writing Simon Snow fan fiction, dressing up like the characters for every movie premiere.

Cath's sister has mostly grown away from fandom, but Cath can't let go. She doesn't want to.

Now that they're going to college, Wren has told Cath she doesn't want to be roommates. Cath is on her own, completely outside of her comfort zone. She's got a surly roommate with a charming, always-around boyfriend, a fiction-writing professor who thinks fan fiction is the end of the civilized world, a handsome classmate who only wants to talk about words . . . And she can't stop worrying about her dad, who's loving and fragile and has never really been alone.

For Cath, the question is: Can she do this? Can she make it without Wren holding her hand? Is she ready to start living her own life? Writing her own stories? Open her heart to someone? Or will she just go on living inside somebody else's fiction?

I LOVE Rainbow Rowell. Anything she writes, I buy. I related on so many levels with this book and I basically recommend this book to everyone. If people don't like it, I kinda take offense to it because I feel like Cath at time so I just want to shelter her. So go out and read Fangirl!

About the author:
Rainbow Rowell writes books.


Sometimes she writes about adults (Attachments and Landline).

Sometimes she writes about teenagers (Eleanor & Park and Fangirl).

But she always writes about people who talk a lot. And people who feel like they're screwing up. And people who fall in love.

When she's not writing, Rainbow is reading comic books, planning Disney World trips and arguing about things that don't really matter in the big scheme of things.

She lives in Nebraska with her husband and two sons.
Author's links: Website / Twitter / Facebook / Tumblr

I hope you can join us in sharing and talking about some of your favorite reads. Book talk always make me happy.
What is one of your favorite reads?