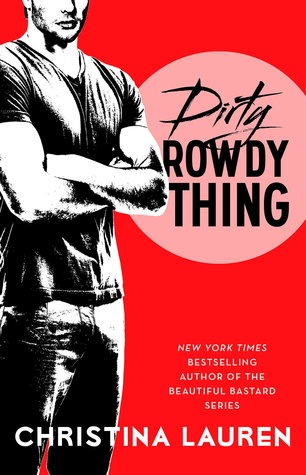 Dirty Rowdy Thing (Wild Seasons #2)
Author:
Christina Lauren
Release Date: November 4, 2014
Publisher: Gallery Books
Source: ARC provided by publisher
Review by: Jenn & Nahomi
Despite their rowdy hookups, Harlow and Finn don't even like each other...which would explain why their marriage lasted only twelve hours. He needs to be in charge and takes whatever he wants. She lives by the Want-something-done? Do-it-yourself mantra. Maybe she's too similar to the rugged fisherman—or just what he needs.
Jenn's rating: 5 stars out of 5 stars
Nahomi's rating: 5 stars out of 5 stars
Overall rating: 5 stars out of 5 stars
*We received an ARC of this book from the publisher but it did not influence this review in any way.*


Jenn:
I don't know how they do it, but Christina Lauren have managed to knock it out the park again with
Dirty Rowdy Thing
. I was completely sucked into the story and I couldn't read fast enough. Harlow and Finn kept me on my toes and had me LOLing. They were the perfect pair and I just love them together.
I really love getting to know Harlow and learning how much her close knit of people mean to her. In a way, I can relate to her. She's the kind of person that keep people at arms length until she knows you. But once you've become part of her life, she would do anything for them. She makes it her mission to do anything in her power to make her friends and family happy. Which is something that Finn is not exactly used to and brings me to my next point. Finn is used to taking care of everything and being in control. So being around Harlow made things a little difficult for Finn. Since they are alike in that way, they had to learn to give and take. There was an occasion in the story where there was a misunderstanding that bothered me but I did enjoy how it was resolved in the end.
Being a Christina Lauren book, you know that the smexy times had to be AMAZING, right? Well, they were. There were so many times that just left me speechless and I'm so jealous of Harlow because HOLY.CRAP is Finn Roberts one talented man. There were so many times where I was fanning myself and wondering where I can find myself a Finn of my own.
This was amazing, funny, sweet, hot read. The characters kept me laughing and the story kept turning pages and I love the little glimpse into the other characters' lives that we got. I can't wait until the next book. The wait might just kill me. At least I can console myself that we get more of Christina's and Lauren's words in April as we return to the Beautiful Bastard world again. Can't wait!
But seriously, where can I get Finn? I have something that I need for him to, uh...do. Ahem. Go buy this book, trust me. It's AMAZING.
Nahomi:
Well said Jenn, I agree with all of the above. But I would like to add a few more things that I really enjoyed. Besides Finn and Harlow's relationship I really liked Harlow's family dynamic. Her relationship with her parents and especially dad really caught me off guard; I really love their interaction.Christina Lauren did a phenomenal job integrating family into this novel. I loved being able to see the world through Harlow's perspective and felt I could really identify with her on a lot of different levels.
The only thing I really had an issue with was the ending just because I really wanted to see what happened after they made up. I was dying to get an epilogue but just because I wanted stay in Harlow and Finn's world a little longer. I can't wait to see what is coming next for the gang of the Wild Seasons!