Have a favorite book? Series? One that you've just read or are currently reading? Favorite Friday is a weekly meme hosted by
Books and Swoons
where we spotlight some of our Favorite Reads. Everyone is welcome to join. Just enter your information on the linky or leave us a comment!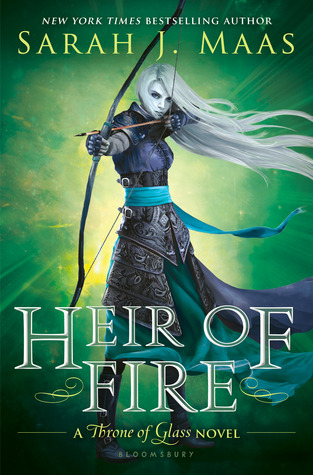 Lost and broken, Celaena Sardothien's only thought is to avenge the savage death of her dearest friend: as the King of Adarlan's Assassin, she is bound to serve this tyrant, but he will pay for what he did. Any hope Celaena has of destroying the king lies in answers to be found in Wendlyn. Sacrificing his future, Chaol, the Captain of the King's Guard, has sent Celaena there to protect her, but her darkest demons lay in that same place. If she can overcome them, she will be Adarlan's biggest threat – and his own toughest enemy.

While Celaena learns of her true destiny, and the eyes of Erilea are on Wendlyn, a brutal and beastly force is preparing to take to the skies. Will Celaena find the strength not only to win her own battles, but to fight a war that could pit her loyalties to her own people against those she has grown to love?
Here's the thing, I'm not a fantasy girl. I love my contemporaries book with some romance, or dystopian or mysteries. Fantasy? It really hard to get me to read it. However, I first read
Throne of Glass
two years and I thought to myself, "Ok, this is good. I can see the hype." The second book,
Crown of Midnight
? Completely sold. THIS book?
Heir of Fire
? It completely owns me. I was one hot mess reading
Heir of Fire
and I was completely useless. I did not want to be bothered. I only wanted to talk about the book with other people. Of course, at the time I read the book, my best friends hadn't even read the 1st book. On top of that, I read it before it came out so THERE WAS NO ONE TO TALK TO. At least, no one I knew personally. I was completely CONSUMED with this book and I had no one to discuss it with. Talk about painful.
It one of my favorite books and every day that goes by where I don't anything about the fourth book, a little of soul dies. So in order for me to function in every day life, I need for all of my friends to read this so I can have people to flail/gush over with. GO READ THIS SERIES/BOOK. YOU NEED IT IN YOUR LIFE. TRUST ME.
About the author:
I'm Sarah J. Maas, the New York Times and USA Today bestselling author of the Throne of Glass series (Heir of Fire, Book 3, will be out in September 2014). The Assassin's Blade, a bind-up of all five TOG novellas is out now! Starting in Spring 2015 – my New Adult Fantasy series, A Court of Thorns and Roses, will be published by Bloomsbury as well! Hooray! I was born/raised in Manhattan, but traded freezing winters and sweltering summers for No Winter Ever Weather when I followed my then-boyfriend (now husband!) out to California in 2008. After six years in SoCal, I've finally returned to the East Coast, and am currently residing in the Philadelphia area. I graduated Magna Cum Laude from Hamilton College with a degree in Creative Writing, and a minor in Religious Studies. I'm represented by Tamar Rydzinski of the Laura Dail Literary Agency.
I hope you can join us in sharing and talking about some of your favorite reads. Book talk always make me happy.
What are one of your favorite reads?