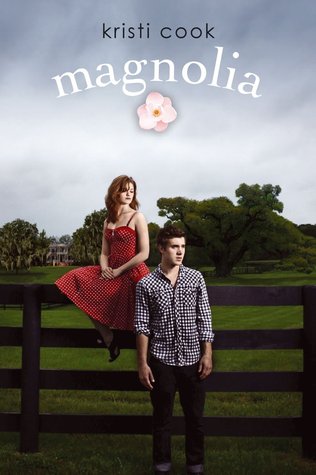 Magnolia
Author:
Kristi Cook
Release Date: August 5, 2014
Publisher: Simon Pulse
Source: Personal Copy
Review by: Nahomi
In Magnolia Branch, Mississippi, the Cafferty and Marsden families are southern royalty. Neighbors since the Civil War, the families have shared vacations, holidays, backyard barbecues, and the overwhelming desire to unite their two clans by marriage. So when a baby boy and girl were born to the families at the same time, the perfect opportunity seemed to have finally arrived.

Jemma Cafferty and Ryder Marsden have no intention of giving in to their parents' wishes. They're only seventeen, for goodness' sake, not to mention that one little problem: They hate each other! Jemma can't stand Ryder's nauseating golden-boy persona, and Ryder would like nothing better than to pretend stubborn Jemma doesn't exist.

But when a violent storm ravages Magnolia Branch, it unearths Jemma's and Ryder's true feelings for each other as the two discover that the line between love and hate may be thin enough to risk crossing over.
5 stars out of 5 stars
I absolutely loved loved loved
Magnolia
! Once I started this book I couldn't put it down. This is the type of book that I want to read over and over again, that's how much I love it. I love the premise of the story; it's Romeo and Juliet with a twist. Now, I have read other modern takes on classics which shall remain nameless and I wasn't really into them, but this one takes the cake the caramel cake that is.
In the beginning I was a little hesitant because of my past experience but as soon as I started reading I was sucked into Jemma's world at Magnolia Branch. I love the setting and felt like I wanted to jump into the book and live in Magnolia Branch (except for the snakes, I'm not a fan). I loved the relationship the relationship between the Caffertys and the Marsdens. It was so funny to see how Jemma and Ryder's mom would try to push them together.
The pacing of this story is a mixture of fast and slow which worked well for the story. I say this because after the hurricane I felt like the pacing slowed down a little. I loved that although this is a romance the sole focus of the story wasn't just the relationship between Jemma and Ryder. There are a lot of other things happening simultaneously in the story; and it worked really well. The combination of the plot, the setting, and the characters had me falling in love with this story over and over again.
Jemma is a strong female lead; I love the strength she portrayed throughout the story. She had to deal with a lot of things at the same time and I feel she handled it very well. I love that she is a girly girl but isn't afraid to get her hands dirty and do the hard work. I also like that she is the best shot in her county and just to get on the boys nerves she wears the girliest outfit she can find to her shooting competitions. Ryder is the all American boy, quarter back of the football team, perfect grades, good looking, and popular. These are all great but what made me swoon was how thoughtful and sweet Ryder is and well you just have to read the book and see for yourself but he is definitely a gem.
I could go on and on about how this book is wonderful and give you all the reasons why I love this story so much; but you just have to read it for yourself and find out how great it is! I recommend this book 110 percent! It is a must read!