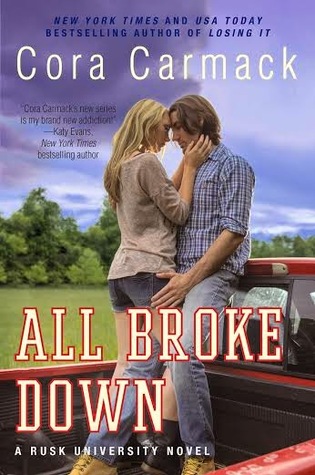 All Broke Down (Rusk University, #2)
Author:
Cora Carmack
Release Date: October 28, 2014
Publisher:
William Morrow
Source: Personal Copy
Review by: Nahomi
Dylan fights for lost causes. Probably because she used to be one.

Environmental issues, civil rights, corrupt corporations, and politicians you name it, she's probably been involved in a protest. When her latest cause lands her in jail overnight, she meets Silas Moore. He's in for a different kind of fighting. And though he's arrogant and infuriating, she can't help being fascinated with him. Yet another lost cause.

Football and trouble are the only things that have ever come naturally to Silas. And it's trouble that lands him in a cell next to do-gooder Dylan. He's met girls like her before fixers, he calls them, desperate to heal the damage and make him into their ideal boyfriend. But he doesn't think he's broken, and he definitely doesn't need a girlfriend trying to change him. Until, that is, his anger issues and rash decisions threaten the only thing he really cares about: his spot on the Rusk University football team. Dylan might just be the perfect girl to help.

Because Silas Moore needs some fixing after all.
4.5 stars out of 5 stars
To say that I love Cora Carmack's writing is a bit of an understatement. All Broke Down is a beautifully written story that deals with a lot of issues that normally aren't addressed. I just couldn't put down this book, and I would have finished it sooner if other responsibilities hadn't got in the way. All Broke Down transitions effortlessly between Silas and Dylan's points of view. The dialogue was on point, and I was in suspense through out the whole story. Just when I though everything was going to get better and we had our resolution, bam! Cora throws another twist to the story that completely caught me by surprise.
Silas and Dylan are so cute together, they are like different sides of the same coin, they balance each other. Silas is the ultimate bad boy; uber hot, bad temper, and is the ultimate flirt. I love his personality, because although he is a man whore and has temper issues, he is honorable and a really nice guy and most of all, honest about what he wants. Silas is rough and comes off as a tough guy but I love that he is sweet, sensitive and protective when it comes to Dylan.
Dylan seems like your typical over achieving good girl, that is having a rebellious streak. But as I got to know her, I found that she was just trying to find out who she was and what she wanted in her life. Dylan is funny and awkward and suffers from diarrhea of the mouth when she gets nervous.
I thought both characters show a significant amount of character growth throughout the book. I was really sad to finish the book because even though I wanted to see how the story ended I wanted more of Silas, Dylan and the gang. I can't wait for All Played Out!