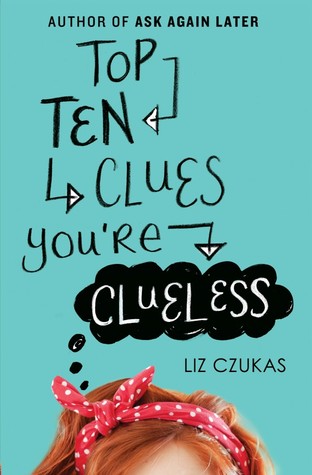 Top Ten Clues You're Clueless
Author:
Liz Czukas
Release Date: December 9, 2014
Publisher:
HarperTeen
Source: Edelweiss
Review by: Jenn
Top Five Things That Are Ruining Chloe's Day

5) Working the 6:30 a.m. shift at GoodFoods Market

4) Crashing a cart into a customer's car right in front of her snarky coworker Sammi

3) Trying to rock the "drowned rat" look after being caught in a snowstorm

2) Making zero progress with her crush, Tyson (see #3)

1) Being accused—along with her fellow teenage employees—of stealing upwards of $10,000

Chloe would rather be anywhere than locked in work jail (aka the break room) with five of her coworkers . . . even if one of them is Tyson. But if they can band together to clear their names, what looks like a total disaster might just make Chloe's list of Top Ten Best Moments.
4 stars out of 5 stars
*I received an eARC of this book from the publisher. However, it did not influence this review in any way.*
Earlier this year, I read Liz Czukas' debut novel
Ask Again Later
. I completely fell in love with the book, so when I heard about this book I immediately added it to my to-read list.
Top Ten Clues You're Clueless
follows the story of Chloe. She is working a shift at her local grocery store on Christmas Eve and to make matters worse, she hasn't made any friends and it typically makes for a rather long, lonely shift. However, she's in for a surprise when she and her fellow teens coworkers get accused of stealing $10,000.
I love getting to know Chloe and the rest of the gang: Sammi, Gabe, Micah, Zaina, and Tyson. They are completely different from another but once they let down their barriers, they can see how much in common they have with each other. I enjoyed reading all the shenanigans that they got themselves into and I even LOLed a few time, causing the people around me to look at me weird. I also, thoroughly enjoyed the "top ten" lists that Chloe was always referencing to; they definitely made things interesting.
Liz Czukas managed to create another book that I devoured in a couple of hours and left me wanting more. I loved the book from beginning to end and I can't wait to own the finished copy. Czukas is slowly becoming an author that I know I will just read anything from because her books just give me a happy feeling afterwards. If you haven't read her previous work, you're missing out so go out and buy it.