Have a favorite book? Series? One that you've just read or are currently reading? Favorite Friday is a weekly meme hosted by
Books and Swoons
where we spotlight some of our Favorite Reads. Everyone is welcome to join. Just enter your information on the linky or leave us a comment!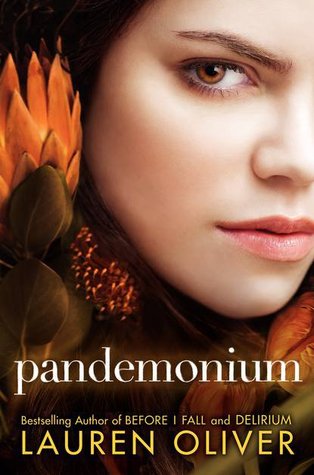 I'm pushing aside
the memory of my nightmare,
pushing aside thoughts of Alex,
pushing aside thoughts of Hana
and my old school,
push,
push,
push,
like Raven taught me to do.
The old life is dead.
But the old Lena is dead too.
I buried her.
I left her beyond a fence,
behind a wall of smoke and flame.

Lauren Oliver delivers an electrifying follow-up to her acclaimed New York Times bestseller, Delirium. This riveting, brilliant novel crackles with the fire of fierce defiance, forbidden romance, and the sparks of a revolution about to ignite.
I remember, quite vividly too, how distraught and emotional and hysterical this book left me. I remember calling Nahomi in tears once I finished this book because I was so immersed and so invested in this story that once I read the last page, I needed some comforting. I don't think I've had such a reaction to book like I have to this book so I will forever remember and love this book for giving such a reaction to it. If you haven't already read this series, I suggest that you do. It is so good.
About the author:
I was born in Queens and raised in Westchester, New York, in a small town very similar to the one depicted in Before I Fall. My parents are both literature professors, and from a very early age, my sister and I were encouraged to make up stories, draw, paint, dance around in costumes, and essentially spend much of our time living imaginatively. Our house was old and full of art and towers and towers of books, and that's still the kind of house I like best.

I started writing as a way of extending my love of reading; when I read a book I loved, I would continue to write sequels for it (I was inadvertently a fan fic writer, before "fan fiction" was even a term!). Later on, I began working on my own stories, and keeping company with a lot of imaginary friends.

I pursued literature and philosophy at the University of Chicago, and then moved back to New York to attend NYU's MFA program in creative writing. I simultaneously began working at Penguin Books, in a young adult division called Razorbill, and while there, I started work on Before I Fall. I left in 2009 to pursue writing full-time, and now I happily work in my pajamas every day.

I have a variety of interests apart from writing, including reading, cooking, traveling, dancing, running, and making up weird songs. Some of my favorite things are: being cozy; fires; autumn; fuzzy slippers; very high heels; great wine; dark chocolate; ketchup; pasta. Things I hate: practical shoes, liars, and bananas. I divide my time between Brooklyn, upstate New York, and various hotel rooms.
I hope you can join us in sharing and talking about some of your favorite reads. Book talk always make me happy.
What are one of your favorite reads?