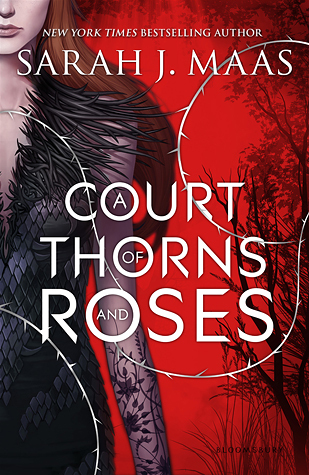 A Court of Thorns and Roses
(A Court of Thorns and Roses #1)
Author:
Sarah J. Maas
Release Date: May 5, 2015
Publisher:
Bloomsbury Children
Source: NetGalley/ARC from ALA
Review by: Jenn
A thrilling, seductive new series from New York Times bestselling author Sarah J. Maas, blending Beauty and the Beast with faerie lore.
When nineteen-year-old huntress Feyre kills a wolf in the woods, a beast-like creature arrives to demand retribution for it. Dragged to a treacherous magical land she only knows about from legends, Feyre discovers that her captor is not an animal, but Tamlin—one of the lethal, immortal faeries who once ruled their world.
As she dwells on his estate, her feelings for Tamlin transform from icy hostility into a fiery passion that burns through every lie and warning she's been told about the beautiful, dangerous world of the Fae. But an ancient, wicked shadow grows over the faerie lands, and Feyre must find a way to stop it . . . or doom Tamlin—and his world—forever.
5 stars out of 5 stars (But in reality, alllllllll the stars)
*I received an eARC of this title from the publisher in exchange for an honest review. However, that does not influence this review in any way.*
I'm not sure how to properly talk about this book without flailing so just bear with me if I tend to go off in a fangirl, rambling mess. But just know that it is because I absolutely LOVED this book.
A Court of Thorns and Roses
has been a such a hyped up read for me because Sarah J. Maas is the queen of fantasy for me. After falling in love with her
Throne of Glass
series, I knew that this book would be nothing less of completely captivating world, well-written characters and I'm very glad to report that it did live up to my high expectations.
A Court of Thorns and Roses
follow Feyre, a young woman who has had to take care of her family by hunting and doing many dangerous things to survive. After killing a wolf during one of her hunting trips, she is tracked home by a creature that she's been warned about. She is taken as punishment by the creature and what follows is nothing what Feyre is prepared for.
This story, you guys. OHMYGOD THIS BOOK. It is SO good and I just loved every page of it. I love being in Feyre's head. Tamlin, oh my. I just loved him and all of his beast-like self. He is just a perfect mix of strong/sweet/capable/caring man/fae. Lucien is the best character because he is not only the comedic relief, he is the best of friend to Tamlin but also to Feyre as well. All the characters, even the one I hated, were so well done and developed. I'm not sure how Sarah does it, but I become attached to all of her characters and the world she writes. The world she a wrote for us is so vivid and full of back story that it feels like a real world.
The book left me feeling happy and satisfied but intrigued for the next book in the series. I can't wait to see how the story continue to develop and where Sarah takes these beloved characters of mine. However, I trust that whatever Sarah J. Maas does, her books will be good regardless.