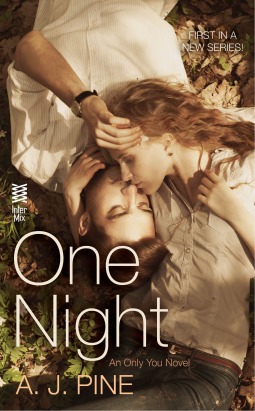 One Night
(Only You #1)
Author:
A.J. Pine
Release Date: April 21, 2015
Publisher: Intermix / Penguin
Format: eARC
Source: NetGalley
Review by: Nahomi
When she lost it all, Jess decided to cope by living a lie.

But you can't keep on pretending forever…

Twenty-one-year-old Jess used to have everything—a loyal best friend, a boyfriend she loved, and a future that was right on track. But in a single night, her whole world changed.

Now, Jess lives for the impersonal connection of drunken hook-ups and to-go coffee cups in the morning. All she needs is one night to pretend everything is fine…until she meets Adam.

Thanks to a sports injury, gorgeous, charming basketball star Adam Carson is stuck in physical therapy at the hospital where Jess interns—giving her the perfect opportunity to see his sweet, considerate nature and making her realize that maybe she does want something more.

But while Adam might be the best thing that's happened to Jess in a long time, letting him past her carefully constructed walls means letting him know what happened...and why he'd never want her for more than one night.
3 stars out of 5 stars
Jessica and Adam's story is sweet and frustrating all at the same time. Like most NA books there is a guy and a girl in college whom are broken. Somehow destiny throws them together and somewhere along the way they end up falling in love/fixing each other. That pretty much sums up this story in a nutshell; except that A.J. Pine does a great job of creating characters that are engaging and pull you into the story.
There were definitely a lot of times when rolled my eyes because I felt like Jess was being very cliche or felt that the story was predictable. I kept reading because I was invested in the characters and wanted to experience the journey with them to see how they got to an ending I already knew was coming.
From the beginning I knew Jess had issues by the way she presented herself and the way she acted. What made Jessica different from some of the other leading female characters is that she does a really good job of keeping it together for the majority of the book. Although I understand why she acted the way she did, sometimes she made some really crazy assumptions and decision without any real foundation. Jess however does experience great character growth throughout the story. By the end of the story she has made major steps in her healing process although she is definitely not fully ok.
Adam is a college basketball star with a knee injury that will eventually end his career. Needless to say Adam has his own issues to deal with. When he meets Jess Adam finds some solace and set about winning her over. He is so sweet and patient with Jess throughout the story. Adams thoughtfulness and sweetness had me swooning.
All in all the story was predictable and a little cliche at times, but the character had a way of pulling me into their story and really made
One Night
worth reading.