Have a favorite book? Series? One that you've just read or are currently reading? Favorite Friday is a weekly meme hosted by
Books and Swoons
where we spotlight some of our Favorite Reads. Everyone is welcome to join. Just enter your information on the linky or leave us a comment!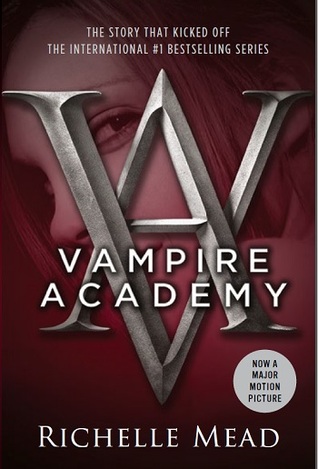 ONLY A TRUE BEST FRIEND CAN PROTECT YOU FROM YOUR IMMORTAL ENEMIES...

Lissa Dragomir is a Moroi princess: a mortal vampire with a rare gift for harnessing the earth's magic. She must be protected at all times from Strigoi; the fiercest vampires - the ones who never die. The powerful blend of human and vampire blood that flows through Rose Hathaway, Lissa's best friend, makes her a dhampir. Rose is dedicated to a dangerous life of protecting Lissa from the Strigoi, who are hell-bent on making Lissa one of them.

After two years of freedom, Rose and Lissa are caught and dragged back to St. Vladimir's Academy, a school for vampire royalty and their guardians-to-be, hidden in the deep forests of Montana. But inside the iron gates, life is even more fraught with danger... and the Strigoi are always close by.

Rose and Lissa must navigate their dangerous world, confront the temptations of forbidden love, and never once let their guard down, lest the evil undead make Lissa one of them forever...
We are totally obsessed with this book and series right now.
Vampire Academy
is full of action, mystery and forbidden love. It is a must read!
About the author:
Scorpio Richelle Mead is a New York Times and USA Today bestselling author of urban fantasy books for both adults and teens. Before becoming a writer, she considered a few different career paths. She has a bachelor's degree in liberal arts, an MA in Comparative Religion, and a Master in Teaching degree for secondary education. In the end, she decided writing was the way for her but believes all of her education prepared her for it.




A life-long reader, Richelle has always had a particular fascination with mythology and folklore. When not writing, she enjoys bad reality TV, traveling, trying interesting cocktails, and shopping for dresses. Lots of dresses. She is a self-professed coffee addict, fights a constant (and losing) battle with procrastination, and has a passion for all things wacky and humorous.




Her adult series include The Georgina Kincaid Series, which tells the humorous and heart-breaking story of a reluctant succubus who can't touch the man she loves without dire side effects. On top of that, she must deal with Hell's middle management team and the many supernatural threats that come her way. Richelle's Dark Swan Series follows Eugenie Markham, a free-lance shaman who battles ghosts and fey that sneak into our world from the Otherworld. When an alarming prophecy suddenly makes her every Otherworldly creature's object of desire, Eugenie must dodge their advances while also fighting a dark power rising within her. Richelle's third adult series, The Age of X, takes place in a futuristic world where religion has been banned--but in which the supernatural is finding a way to come back.




Richelle's internationally acclaimed YA series, Vampire Academy, is published by Razorbill Books (Penguin). This New York Times and USA Today bestselling series has won honors from the American Library Association, made into a movie, and been translated into 30 languages. It follows the war between two races of vampires, living and undead. Rose Hathaway, a 17-year old half-vampire, is training to be a bodyguard for the living vampires and finds her life complicated by the dangers that involves, as well as an illicit romance with one of her teachers. Vampire Academy was followed by a bestselling spin-off series, Bloodlines, which follows both old and new characters from the VA world.
I hope you can join us in sharing and talking about some of your favorite reads. Book talk always make me happy.
What are one of your favorite reads?