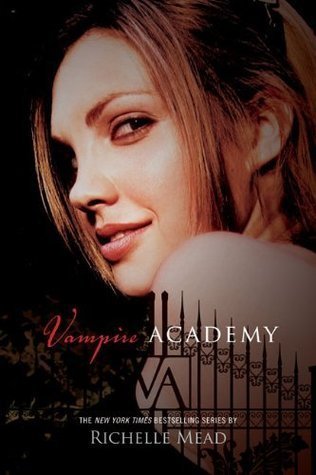 Vampire Academy
(Vampire Academy #1)
Author:
Richelle Mead
Release Date: January 1, 2007
Publisher: Razorbill
Source: Personal Copy
Review by: Jenn
Lissa Dragomir is a Moroi princess: a mortal vampire with an unbreakable bond to the earth's magic. She must be protected at all times from Strigoi; the fiercest and most dangerous vampires--the ones who never die.

The powerful blend of human and vampire blood that flows through Rose Hathaway, Lissa's best friend, makes her a Dhampir; she is dedicated to a dangerous life of protecting Lissa from the Strigoi, who are hell-bent on making her one of them.

After two years of illicit freedom, Rose and Lissa are caught and dragged back to St. Vladimir's Academy, hidden in the deep forests of Montana. Rose will continue her Dhampir education. Lissa will go back to being Queen of the elite Moroi social scene. And both girls will resume breaking hearts.

Fear made Lissa and Rose run away from St. Vladimir's--but their world is fraught with danger both inside and out of the Academy's iron gates. Here, the cutthroat ranks of the Moroi perform unspeakable rituals and their secretive nature and love of the night creates an enigmatic world full of social complexities. Rose and Lissa must navigate through this dangerous world, confront the temptation of forbidden romance, and never once let their guard down, lest the Strigoi make Lissa one of them forever...
4 stars out of 5 stars
I just want to preface this review by saying three things: 1. Thanks to the movie and my two of my friends for pushing me to read this series, I love it. 2. I'm glad I didn't read the books as they were being published because I would have died from the cliffhangers and the need to know. And 3. I LOVE MY RUSSIAN GOD, DIMITRI. Whew! Glad to get that off my chest.
Now, as for the book, I quickly became obsessed and I could not put the book down. Rose Hathaway is such a fun, charming and sarcastic character and I loved being in her head. The moment you pick up the book, you're thrust into the story and at first I found myself lost and confused. However, I quickly noticed that that is the way Rose work. She quick to act and punch and then later learns the who, why and reasons for doing so. The friendship between Rose and Lissa Dragomir is so important to both girls, to their characters and to their growth. It was interesting seeing their dynamic with each other and with everyone else.
Now, the boys in this series cannot be forgotten. Dimitri Belikov, sigh, is a badass and he knows how to get the job done. He's a man with not a lot of words but when he does speak, you better be listening. Christian Ozera is perfect for Lissa and even Rose. He gives both girls the perspectives they hadn't thought of themselves.
The story itself is unique because of the bond that Rose and Lissa share. However, for me, the story work so well because Rose is such an awesome main character. All the shenanigans that she got up to was so very entertaining but the more I got to know Rose, I saw how much Lissa means to her and how much she was willing to put her life on the line. Like I said before, I'm very glad I read this series when all books were out because the wait would have killed me. But I seriously should have read this book sooner. Dimitriiiii!