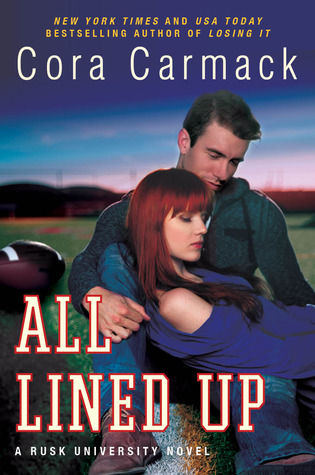 All Lined Up
(Rusk University #1)
Author: Cora Carmack
Release Date: May 13, 2014
Publisher:
William Morrow
Source: Edelweiss and InkSlinger PR
Review by: Jenn and Nahomi
New York Times and USA Today bestselling author Cora Carmack follows up her trio of hits—Losing It, Faking It, and Finding It—with this thrilling first novel in an explosive series bursting with the Texas flavor, edge, and steamy romance of Friday Night Lights.

In Texas, two things are cherished above all else—football and gossip. My life has always been ruled by both.

Dallas Cole loathes football. That's what happens when you spend your whole childhood coming in second to a sport. College is her time to step out of the bleachers, and put the playing field (and the players) in her past.

But life doesn't always go as planned. As if going to the same college as her football star ex wasn't bad enough, her father, a Texas high school coaching phenom, has decided to make the jump to college ball… as the new head coach at Rusk University. Dallas finds herself in the shadows of her father and football all over again.

Carson McClain is determined to go from second-string quarterback to the starting line-up. He needs the scholarship and the future that football provides. But when a beautiful redhead literally falls into his life, his focus is more than tested. It's obliterated.

Dallas doesn't know Carson is on the team. Carson doesn't know that Dallas is his new coach's daughter.

And neither of them know how to walk away from the attraction they feel.
Jenn's rating: 4 stars out of 5 stars
Nahomi's rating: 5 stars out of 5 stars
Our average rating: 4.5 stars out of 5 stars
*We received an eARC of this book from the publisher and InkSlinger PR as part of blog tour but it did not influence this review in any way.*
Jenn:
I've been promoting Cora Carmack on this blog ever since she first came out with
Losing It,
on her own, before she was offered a contract with her current publisher, William Morrow. So you can say I'm a big fan of hers but I have a little bit of a surprising fact I would like to share with you guys: this is the first book I have actually read from Cora. Her
Losing It
series has been on my TBR list forever but I had yet to pick up and read her work. So I decided to remedy that when I was given the chance to be a part of this blog tour.
Right from the beginning of the first paragraph of the first chapter I was hooked. Dallas's voice is so easy to enjoy and I love her sense of humor. I love her friendship with Stella, who is her best friend. Their stamps of approval/disapproval has me thinking that it actually a pretty brilliant idea. I might have to use it myself. Carson is so smooth and swoony and I was swooning right alongside with Dallas. Especially whenever him and biceps were around. I think I have a new love and appreciation for guys who work out.
"I don't know anything about this guy except that his eyes make my mind fuzzy, and his muscled arms make my mouth water, and the things he keeps saying... they burn - beginning in my flushes cheeks, blazing through my blood, and curling between my legs until I feel like I have to squeeze them together just to keep from combusting on the spot." - Cora Carmack, All Lined Up
Holy crap
I love whenever Dallas and Carson would be together because then their bantering would begin and it would just be back and forth between them both. Their banter upped the sexual tension that they shared and it really showed how much attraction there is between them. I was cheering them on throughout the whole book.
One of my favorite thing about the book was how by the end of the book, both Carson and Dallas ended up going for what they wanted, individually. I love when books allow for characters, especially the female characters, to go for what they want individually and don't let a relationship stop them from doing it.
Cora did a wonderful job at the unresolved sexual tension (UST) between Carson and Dallas. Many time throughout the book had me wanting more and more and when either of the characters pulled back, it had me feeling frustrated for the other party. Carson and Dallas were such lovable characters that I hope to see glimpses of their lives in the next book in the series. If Cora's
Losing It
series is anything like
All Lined Up
, I can't wait to read the rest of her books.
Nahomi:
I am a fan of Cora Carmack's writing, so I will read pretty much anything she writes. All Lined Up really hit home with me. I normally read to distract myself from my daily routine, this story did so much more than that; it gave me the motivation I needed to keep going with my insane schedule. "No Easy Day" says Coach Cole and I completely agree with him.
I loved this story from beginning to end. There isn't one bad thing I can say or nit pick at because for me this story was perfect. I loved that the main characters had insecurities and were struggling with the concept of what it means to be an adult. Dallas and Carson's struggles made them relatable, three dimensional characters. Dallas captivated my attention and drew me into the her world and what she was experiencing. I even liked her internal monologue (which normally is difficult for me to like), it was hilarious at times and brutal at others, but it felt genuine.
Carson is a sweetheart. He's the underdog and there is nothing bad about this very sexy, honest, and hard working guy. I totally fell for him and I love how Carson treats Dallas. Their relationship is sweet and passionate at the same time. The chemistry between Dallas and Carson is palpable through the entire story, and the sexy scenes are oh so steamy.
Their journey was touching and heart felt, by the end I was left with a feeling of hope. I was so happy to see there was an epilogue! I liked how Ms. Carmack left Dallas and Carson's story and can't wait to see if they show up in the later installments of the series. This story is a must read for me! Don't just take my word for it go and check it out.
Giveaway
About the Author:
Cora Carmack is a twenty-something writer who likes to write about twenty-something characters. She's done a multitude of things in her life-- boring jobs (like working retail), Fun jobs (like working in a theatre), stressful jobs (like teaching), and dream jobs (like writing). She enjoys placing her characters in the most awkward situations possible, and then trying to help them get a boyfriend out of it. Awkward people need love, too. Her first book, LOSING IT, is a New York Times and USA Today bestseller.

Author Links: Website / Twitter / Facebook / Goodreads
You can follow the rest of the tour
here
.