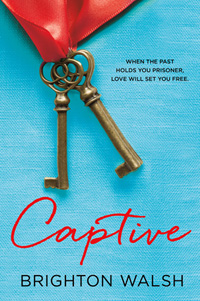 Captive
(Captive #1)
Author:
Brighton Walsh
Release Date: March 24, 2015
Publisher:
St. Martin's Press
Source: St. Martin's Press
He's the most dangerous man she's ever met…and she's falling in love with him.

Madison Frost is desperate to escape her life. Daughter of a prominent businessman, she has everything a girl could ask for. Except for a family who's present in her life, and anyone to talk to outside the four walls of the prison she calls home. Madison dreams of one day leaving her life behind. She never thought being kidnapped is how it would happen.

Now she's being held captive by a man who's as frightening as he is sinfully gorgeous. Enormous, muscular, and filled with secrets, the man they call Ghost is an enigmatic mercenary, and Madison is trapped with him. She doesn't know who hired him or why, but the more time she spends at his mercy, the more she realizes he's not what he seems. Beneath his rough exterior lies an unexpected gentleness and a heart as broken and battered as her own.

But as Madison lets down her walls, Ghost holds tight to his, hiding secrets that could destroy everything.

Excerpt
I let my hands settle under his shirt, against his skin. I'd never felt anything like it. Raw power radiated from the flesh-covered muscles, his abdomen taut and rippled, and I wanted to see it. I wanted to see, to feel, every inch of him. His body was a drug, and I craved more. I pushed his shirt up as he continued kissing me, until finally he pulled away and reached behind to yank it off.

He knelt at the edge of the bed, looking down at me, but I couldn't meet his eyes. I was too busy tracking every inch of skin he'd uncovered. Like I'd imagined, his tattoos continued to more than just his forearms. They arced up over his biceps and massive shoulders, trailing down his chest, several littering the ridges of his stomach. Some wrapped around his sides, and I could only imagine what I'd find when I looked at his back.

He groaned. "Christ, Madison. You need to stop looking at me like that." He came down next to me this time, his body half covering mine, the evidence of exactly how much he wanted me pressed into my hip. He slid his hand to my waist and down to my hips before he moved under my shirt. Slowly, so slowly I ached, he continued and allowed the piece of cotton to bunch up against his wrist, his thumb tracing soft circles as he went. And the whole time, he watched me. His eyes never left mine, and the intensity in them stole my breath.
About the author:
Brighton Walsh spent nearly a decade as a professional photographer before deciding to take her storytelling in a different direction and reconnect with her first love: writing. When she's not pounding away at the keyboard, she's probably either reading or shopping - maybe even both at once. She lives in the Midwest with her husband and two children, and, yes, she considers forty degrees to be hoddie weather. Her home is the setting for frequent dance parties, Lego battles, and more laughter than she thought possible. Visit her online at www.brigthtonwalsh.com.